Interest

Manga Creators Show Off Their Pet Cats in Magazine

posted on by Chris Nishijima
Spring issue of popular quarterly manga magazine is an homage to the love of cats.
---
On March 15, Asuka Shinsha Publishing put out their April issue of their popular quarterly magazine "S." Only this time, they thought they would shake things up by making it cat themed. To honor their favorite fuzzy friends, "S" has gathered a collection of artwork from manga authors and illustrators who wanted to express their love of their beloved pets. Among others, the compilation includes work done by Yumiko Ōshima, Ryo Ikuemi , toi8, and Julietta Suzuki.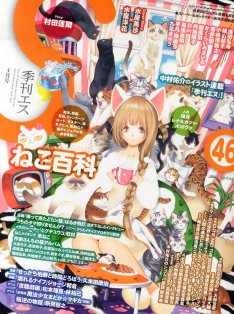 In addition to the various illustrations, this issue of "S" includes special interviews with Oboreru Knife's George Asakura, Sekkachi Hakushaku to Jikan Dorobō and Sayonara, Zetsubou-Sensei's Kōji Kumeta, and Jarinko Chie's Etsumi Haruki, alongside an original illustration from his Kaettekuta Doran Neko.
The issue is available for purchase on Asuka Shinsha's website through Amazon for 1,300 yen for any cat lovers who want to add this to their collection.
[Via Comic Natalie]
---