Interest

Watch Hatsune Miku Come to Life in 3D Mini-Theater Toy

posted on by Bamboo Dong
While kids of years past amused themselves with ViewMasters, kids these days can watch landscapes spring to life in the form of smartphone-assisted 3D "mini theaters." And now, Hatsune Miku fans can join in on the fun, too, with special mini theaters that allow viewers to watch a 3D concert in the palm of their hands.
The third installment of Bandai's Hako Vision mini theaters come in two versions, each with two Hatsune Miku songs, allowing fans to watch 3D renditions of "Tell Your World" and "Nijigen Dream Fever" ("2D Dream Fever") or "World is Mine" and "Story Rider."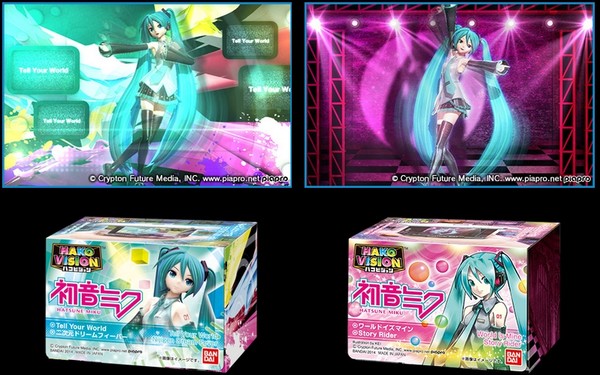 The Hako Vision mini theaters are actually candy toy kits that come with a piece of candy, and are usually sold in the candy aisle of Japanese markets. The contraption itself is remarkably simple, and largely consists of a printed background with a clear plate. Users download a video by scanning the QR code on the side of the box, and project the video by laying their phone screens on top of the box. Here's a video showing how the theaters work:
Each one retails for ¥500. Previous Hako Vision boxes include "Tokyo Hikari Vision" and "Tokyo National Museum Karakuri" as well as Gundam boxes.
[Via Hachima Kikou]
---