Interest

Shonen Jump Manga Creators Also Send Off Naruto With Comments

posted on by Sarah Nelkin
Also: A humorous comic from a passionate fan about the send-off
---
This week's 50th issue of Shueisha's Shonen Jump magazine is set to be a legendary issue, as it houses the final two chapters of Masashi Kishimoto's Naruto manga. Along with Eiichiro Oda's hidden message in the title page of his One Piece manga, all of the manga creators featured in the issue wrote messages in the author's comments section:


Yusei Matsui (Ansatsu Kyōshitsu) - It's an honor to be present to witness the last set of such large footprints. Kishimoto-sensei, really, you've done a great job!
Yūdai Kimura (GARDEN one-shot) - It's an honor to have my work be published in such a celebrated issue. I'm waiting for comments on my work.
Eiichiro Oda (One Piece) - Sometimes a friend, sometimes a rival. I'm so grateful to the strength in my heart I was given for serializing together for 15 years!! Kishimoto-san, good job after working so long!!"
Kōhei Horikoshi (Boku no Hero Academia) - Naruto is my youth itself. Thank you so much for creating the best shonen manga!
Yūto Tsukuda, Shun Saeki (Food Wars: Shokugeki no Sōma) - The manga I encountered in my middle school days is finally...! Kishimoto-sensei, good job after working so long! (Saeki: Completely agreed!)
Kawada (Hinomaru Zumō) - I read [Naruto] since I was a student. It was my item of admiration. Kishimoto-sensei, good job after working so long!
Hideaki Sorachi (Gintama) - The exit of the shinobi was truly elegant like the wind. Kishimoto-sensei, I'm saying goodbye to Naruto. Believe it.
Shūichi Asō (Saiki Kusuo no Psi Nan) - This week's author's comments section seems like it's going to be crazy. (laughs) Kishimoto-sensei, good job after so long!
Haruichi Furudate (Haikyu!!) - It was an honor to collaborate at the Anime Festa. Naruto's coolness is my admiration!
Mitsutoshi Shimabukuro (Toriko) - Whoa! Kishimoto-san, really, congratulations on finishing up these 15 years! Thank you for Naruto!
Naoshi Komi (Nisekoi) - I'm very happy to have been present for the end of a legendary serialization. Really, good work on finishing after so long!
Daisuke Ashihara (World Trigger) - A piece of history from Jump has ended. Kishimoto-sensei, good job on your giant serialization of 15 years.
Shinsuke Kondō (Judos) - I respect the work that became the bridge for Jump for the past 15 years from the bottom of my heart. Kishimoto-sensei, good work for so long!
Ippei Gotō (Hi-Fi Cluster) - Kishimoto-sensei, good job finishing after working so long. It's an honor to share the same pages of this celebrated issue.
Ryō Nakama (Isobe Isobee Monogatari ~Ukiyo wa Tsurai yo~) - I think the young manga creators are currently passionate in trying to succeed Naruto. I'll do my best as well.
Tite Kubo (Bleach) - Kishimoto-san, good work afer so long! I think you'll still be busy after finishing, but at least take a little rest!
Osamu Akimoto (Kochira Katsushika-ku Kamearikouen-mae Hashutsujo) - Kishimoto-san, good work on a long, 15-year serialization. I'll be waiting for you to return with your new work.
Yūto Kubota (Sporting Salt) - Kishimoto-sensei, good work for so long! I've been reading the manga since I was a child. I love Rock Lee.
Yousaku Shibata (Yoakemono) - Kishimoto-sensei, good work finishing after so long! I'm going to go on a training journey and come back when I'm more skilled! Thank you!
Kishimoto also left a message of his own:
I feel both happy and sad reaching my final chapter. It's a difficult feeling. Even so, I can say this: My thanks to all the readers. Thank you so much for reading until the end. Thanks for so long, and good work. Believe it!!
A Chinese fan also posted a humorous comic about the send-off: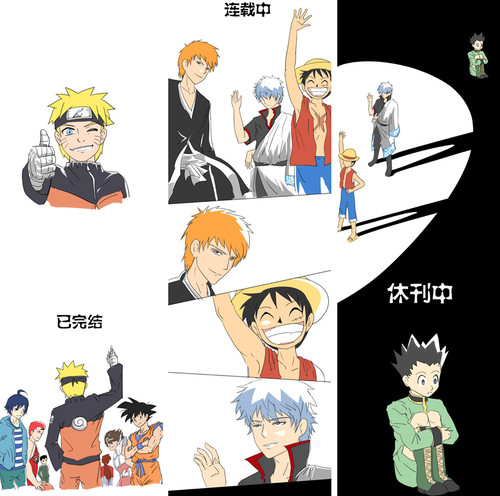 The text reads:
Completed works (with Naruto, Bakuman., YuYu Hakusho, Slam Dunk, Saint Seiya, Dragon Ball, Rurouni Kenshin)
Currently serializing (with Bleach, One Piece, Gintama)
On hiatus (with Hunter × Hunter)
Naruto is ending in Shonen Jump after 15 years of serialization, two main television anime series, a spin-off television series, and a multitude of movies. The film advertised as the final installment, The Last -Naruto the Movie-, will open in Japanese theaters on December 6.
[Comic via Hunter x Hunter Fanfiction]
---