Interest

Yo-kai Watch will Hit the Stage in New Year's Eve Song Contest

posted on by Eric Stimson
Jibanyan, Captain Bully,
Dream5
, King Creamsoda to appear onstage
---
As a nod to the increasing clout and popularity of the hit kids' anime series Yo-kai Watch, Jibanyan and Captain Bully will take the stage in this year's Kōhaku Uta Gassen, or "The Red and White Song Contest" (in costumed form, of course). This is an unusual move, given the all-ages audience of the Song Contest, and one that the perennially popular Pokemon failed to achieve. In addition, Dream5 and King Creamsoda will perform. Dream5 sings the Yo-kai Watch ending themes, "Youkai Taisou Daiichi" and "Dun Dun Doobie Zubah!", while King Creamsoda sings three opening themes, "Geragerapō-no Uta," "Matsuribayashi-de Geragerapō" and "Hatsukoitouge-de Geragerapō." The groups will not compete in the song contest itself, but will appear in a special section ("corner").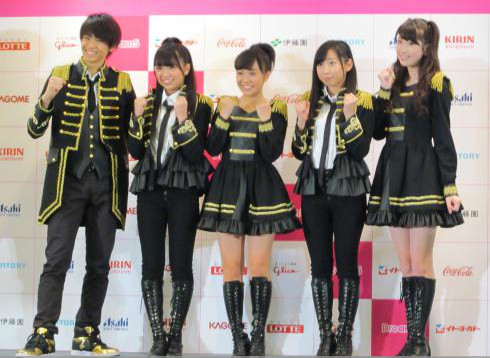 Dream5
In another nod to the young, a special corner devoted to Disney's hit film Frozen will also be included. Idina Menzel, the singer of its hit song "Let It Go," will sing it via satellite from New York, while May J. will perform the Japanese version at NHK Hall in Tokyo.
A Japanese institution, Kōhaku Uta Gassen has been broadcast every New Year's Eve on NHK since 1951 and features two teams of the most popular musicians in Japan that year duking it out by song. These teams, the eponymous "Red" and "White" Teams, are determined by gender (women join the Red Team, men join the White Team). So far, the Whites are in the lead with 35 wins versus the Reds' 29. This year's theme is "Let's Sing. Everyone Joins In on New Year's Eve!"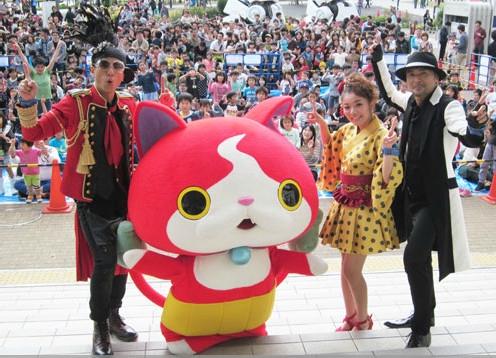 King Creamsoda poses with Jibanyan
[Via Sponichi Annex]
---