Interest

Digital Watches Are the Champions with New Digimon Character Watches

posted on by Carlos Cadorniga
Anime News Network's merchandise coverage sponsored by
Tokyo Otaku Mode
.

---
These Digivices won't exactly help you save the Digital World, but at least they can tell time.

The official Premium Bandai website is primed to sell a brand new set of digital timepieces known as the Digimon Adventure Premium Character Watches. Modeled after the Digivices used by the eight "Digidestined" protagonists of the very first season of Digimon, these watches come in eight different color schemes.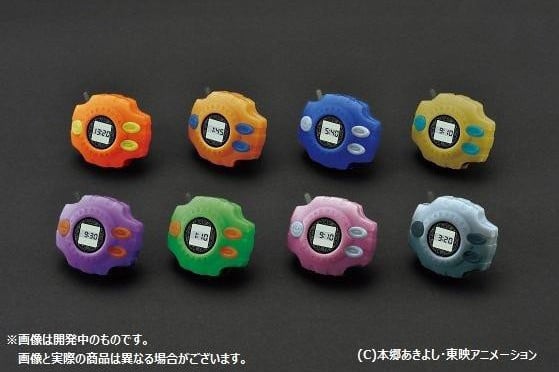 Each color represents the Digivice's appearance when its respective owner's Digimon partner evolves into its Ultimate form.

The set comes with all eight watches and one wrist strap. With the watches being interchangeable and removable from the strap, fans are able to "wield" the piece regularly as if it were their own Digivice.
Pre-orders are currently being accepted and the whole set will cost 9,180 yen (about US$74). The products will ship some time in October.
Digimon Adventure is currently celebrating its 15th anniversary, with a new film series known as Digimon Adventure tri. to premiere in theaters on November 21.
Reservations opened earlier this month for Bandai's Digimon Adventure tri. Complete Selection Animation Digivice.
[Via Premium Bandai]
---