×
remind me tomorrow
remind me next week
never remind me
Subscribe to the ANN Newsletter • Wake up every Sunday to a curated list of ANN's most interesting posts of the week.
read more
Interest

Woman Receives 10-Year Prison Sentence in China For Writing Boys-Love Novels

posted on by Kim Morrissy
A female Boys-Love (BL) author has received a 10-year and six month prison sentence for breaking obscenity laws in China.
The woman, named Liu, sold BL novels on Taobao, China's largest online shopping website. Her novel 攻占 (gōngzhàn, lit. "Attack and Occupy") sold around 7,000 copies from November 2017 to May 23 this year, earning up to 150,000 yuan (approximately US$21,000). She was arrested under China's obscenity laws for "obscenely describing male and female homosexuals" and for "violence, abuse, vulgarity, and other behaviors related to sexual perversion."
According to Chinese reports, the police began an investigation into Liu in November of last year. The room of a hotel in Wuhu County was discovered as a delivery point for the novels. The police then searched the data from companies such as Alibaba and Tencent. On the 21st of the same month, they found the residence of Liu and arrested her. Afterwards, the police stalked and arrested several of her publishing partners.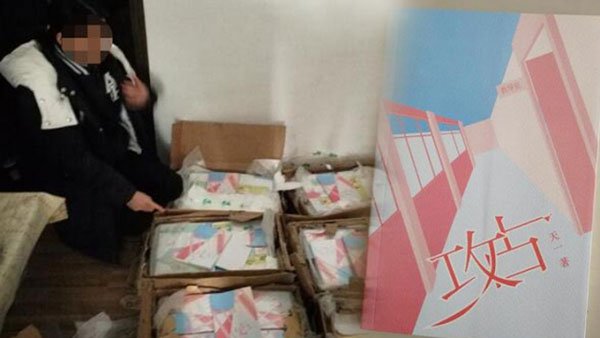 Liu and Lin, who typeset and proofread her novels, were both sentenced to 10-years and six months in prison, but the two have refused to accept the verdict and have filed an appeal.
The incident has inspired outcry from both Chinese and Japanese netizens, who believe that the authorities were too harsh. Chinese netizens have pointed out the hypocrisy of sentencing Liu to 10 years in prison for a book that sold only 7,000 copies, while the actress Fan Bingbing merely had to pay a fine for tax evasion.
Chinese BL and pornography artists on social media have been taking down their works in response to the latest crackdown. They urge their followers not to repost their works online.
In 2014, Anhui TV reported that a similar incident occurred where at least 20 young female authors writing BL novels on an online novel website were arrested.
In 2016, the Chinese government banned depictions of homosexuality on television as part of a cultural crackdown on "vulgar, immoral and unhealthy content." The guidelines state that "No television drama shall show abnormal sexual relationships and behaviors, such as incest, same-sex relationships, sexual perversion, sexual assault, sexual abuse, sexual violence, and so on."
In 2018, Chinese social media platform Sina Weibo banned gay-themed content, but reversed the decision after outcry and protest from the Chinese gay community and LGBTQ advocates.
Sources: China Press (link in simplified Chinese), Real Live News, The Guardian (Hannah Ellis-Petersen), Anhui TV
---