×
remind me tomorrow
remind me next week
never remind me
Subscribe to the ANN Newsletter • Wake up every Sunday to a curated list of ANN's most interesting posts of the week.
read more
Interest

Police Report: Dub Voice Actress' Door Damaged, Classified Criminal Mischief

posted on by Lynzee Loveridge

The claim that voice actress Samantha Inoue-Harte's rental home door was damaged on February 18 was confirmed in a police report obtained by Anime News Network from the Williamson County Sheriff Department on Wednesday. According to the report, an unknown person damaged the residency's front door.
Inoue-Harte claims that she received a phone call from a fake phone number that said she was SWATed, she drove to the rental home, and found the door damaged. She then contacted police.
"SWATing" is defined as a harassment tactic where an individual calls emergency services under false pretenses in order to send a law enforcement response to someone's home. In this particular case, emergency services was not contacted nor did police damage the door. The Williamson County police report states that the damage was done by an unknown person and is looking into case as "criminal mischief."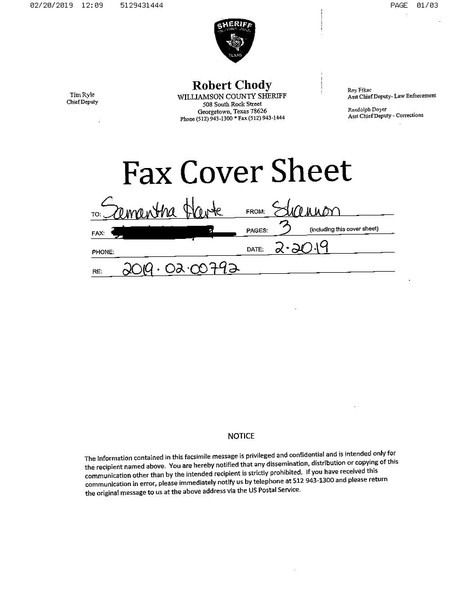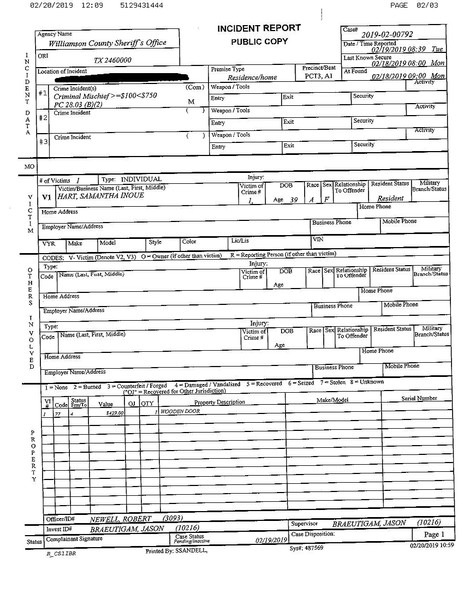 Inoue-Harte posted photos on her Facebook account on Monday alleging that she was "SWATed" at her Texas rental home and attributed the situation to supporters of voice actor Vic Mignogna.
Inoue-Harte's Facebook post came under scrutiny after it was published on Monday when it was discovered that the photos used in the post that day were the same ones Inoue-Harte posted on her Facebook account after a police response to an alleged burglary to her rental home in 2016.
Anime News Network reached out to Inoue-Harte and she clarified that she did reuse the photos in her Facebook post because the door that was damaged on Monday showed her home address number. In order to avoid showing her house number on the damaged door, she stated she instead used the old photos.
Inoue-Harte's account of the police response to the burglary in 2016 also claimed the call was made in error and the home sustained damages from the police. Her Facebook account is currently deactivated.
Inoue-Harte's account was shared on social media prior to the discovery of the photos' origin, including by Crunchyroll director of events Adam Sheehan. Sheehan issued an apology via Twitter on Monday that stated that he found out that Inoue-Harte's account of the event was not true after discussing the situation with others. He went on to ask that individuals do not attack her.
Inoue-Harte previously relayed an account involving Vic Mignogna on February 5 where she alleged that she encountered him having sex on her bed in her hotel room during a convention followed by a post regarding Funimation's independent investigation on February 12. In the post on February 12, Inoue-Harte stated that she gave testimony to Funimation the previous week about instances involving Mignogna and other voice actors and actresses of which she claimed to have knowledge. Inoue-Harte reiterated to Anime News Network that she stands by the veracity of these statements.
ANN contacted Funimation in regards to Inoue-Harte's participation in their internal investigation about Mignogna's behavior and a representative declined to comment.
The #IStandWithVic social media campaign began in response to allegations of misconduct levied at voice actor Vic Mignogna, in contrast with the #KickVic campaign. Allegations against Mignogna, some dating back as far as 1989, came to the surface in the last four weeks. Mignogna issued statement on February 13 in the midst of allegations by fellow voice actors Jamie Marchi and Monica Rial and FUNimation Entertainment severing its relationship with him.
Inoue-Harte has voiced minor roles in several dubs and voiced Li Kohran in the Sakura Wars television anime, the chocobo Chobi and the fairy Crux in Final Fantasy: Unlimited, and Pipin in Magical Play.
Source: Williamson County police report
---