×
remind me tomorrow
remind me next week
never remind me
Just 4 Days Left to Enter the Pumpkin Carving Contest! • The competition is heating up but there's still time to enter for a chance to win over US$1,000 in anime DVDs and swag! Click to find out how!
read more
News

Funimation Adds Ouran Host Club, Sasami: Magical Girl Club (Updated)

posted on by Mikhail Koulikov
Licenses for anime of popular
shōjo
manga and first season of Tenchi spinoff
---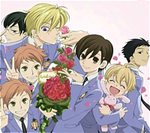 Immediately following ADV's Otakon 2007 session for Friday, Funimation Entertainment took the stage for its own new announcements panel, and announced its North American anime licenses for two decidedly different school clubs: Ouran High School Host Club and Sasami: Magical Girl Club. Both of these are scheduled for 2008.
Update: In Ouran, middle-class Haruhi enrolls into the elite Ouran High School, which has a secret Host Club of rich boys that cater to girls as a paid service. Haruhi is roped into working in the club to pay off a debt, but she becomes one of the club's most popular hosts when she is mistaken for a boy. Viz Media releases the original shōjo manga by Bisco Hatori that inspired the 2006 anime version.

Sasami is a 2006 television series in which alternate versions of Sasami, Misao, Washū, Ryo-Ohki, and other characters from the Tenchi/Pretty Sammy universes form a school cooking club that is secretly a magical girl club. This incarnation of Sasami is a fifth grader with magical powers while Washū is her new school's cooking teacher (who cannot cook) and the club's advisor. Funimation has licensed the first season of Sasami, along with the right to first refusal on subsequent seasons. The company had previously licensed Tenchi Muyō! GXP and the third Tenchi Muyō! OAV series.
---