News

Dark Horse to Publish Thumbelina by Moetan Artist POP

posted on by Egan Loo
---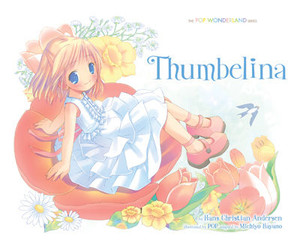 The North American publisher Dark Horse Comics has scheduled a Thumbelina children's story book by Moetan artist POP for a June 24 release. Michiyo Hayano wrote this first book in Dark Horse's planned POP Wonderland Series. It adapts the famous fairy tale by Hans Christian Andersen about the smallest girl in the world and her adventures after a frog kidnaps her to have her marry his son.
Japan has animated an unrelated 1978 World's Famous Stories for Children: Thumb Princess film and a 1992 Oyayubi Hime Monogatari television series. POP illustrated the Moetan English-teaching guides that were animated by ACTAS, Inc. for television in 2007. He later created the designs and story for an original anime project called Kowarekake no Orgol (Kowarekake no Orugōru or Half-Broken Music Box). POP is producing the anime as a dōjin, or self-published, work under his own ElectromagneticWave brand. ElectromagneticWave posted samples of this project online.
Thank you to einhorn303 for the news tip.
Update: Poplar Publishing Co., Ltd. has already released five POP Wonderland books by the same creators in Japan. In order of publication, they are: Fushigi no Kuni no Alice (Alice in Wonderland), Akazukin (Little Red Riding Hood), Oyayubi Hime (Thumbelina), Cinderella, and Ningyo-Hime (The Little Mermaid). Poplar shipped a POP Wonderland Calendar 2007 as well. Thanks, dormcat.
---