News

Escaflowne Movie Gets U.S. Blu-Ray Disc on September 1

posted on

2009-07-08

20:59 EDT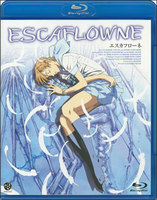 The North American anime distributor Bandai Entertainment will release Kazuki Akane's Escaflowne movie on Blu-ray Disc on September 1. The release will include English and Japanese dubbing as well as English subtitles. (Bandai Visual released the film on one Blu-ray Disc, pictured at right, in Japan in January of 2008.) The film is based on The Vision of Escaflowne, an alternate-world fantasy anime series created by the Sunrise anime studio, Macross creator Shoji Kawamori, and Akane; Bandai Entertainment reissued the original television series in an "Anime Legends" DVD box set in 2006.
---
It's time once again for our enormous Best of 2015 poll! Choose your top 5 shows of the year from the enormous glittering pile of awesome anime that 2015 gave us and help us determine an overall top 5!
This lighthearted shojo adventure about a girl sent to marry a prince she's never met had a warm reception with critics and audiences alike, but is it worth owning?
― As shojo romantic dramedies go, this 12 episode series from the Spring 2014 season is one of the most accessible recent offerings. Even those who do not normally care for such fare could find this to be a pleasing viewing experience, as...
The show that's dominated the top of the charts all season long drops to #2, while another king is crowned. It's an exciting week for your favorite shows!
― Our team of reviewers are following 24 anime series of the Fall 2015 season and readers are rating each episode as the reviews go up. So let's have a look at what ANN readers consider the best (and worst) of the season. Keep in mind that these r...
This week on Shelf Life: the second half of Turn-A Gundam and a low-key, relaxing journey through some tough adolescent feelings with Umi Monogatari. Plus this week's releases! You can't go wrong!
― Thanks have been given, turkeys have been eaten, and we're in the midst of the frenzied holiday sale season. If you went out and fought the crowds last Friday, congratulations on surviving the hordes of ...
Yo-Kai Watch's first two books are good fun for the kiddies, but probably don't have much crossover appeal for older readers.
― If you're familiar with this story – which traces its roots back to a card game and a Nintendo 3DS game – you'll notice that Viz's release of the shounen Yo-Kai Watch manga has been localized. (A shoujo manga also exists, but as of this writing, it has not been licensed in E...
Mike contemplates exactly how the bizarre comedy Papuwa landed on Western shores. Believe it or not, the answer may lie with Final Fantasy! Didn't see that coming, did you?
― Last Christmas, my editor, the inimitable Zac Bertschy, took notice that the Right Stuf's online holiday sales blitz included the complete set of a TV series called PAPUWA. He immediately called attention to this, so I followed ...
Accel World's fifth novel not only goes beyond where the anime left off, but it also shows some real improvement in terms of writing as it explores the reasons why the characters need to accelerate in the first place.
― Since the first Accel World novel, Reki Kawahara has fostered a suspicion in the reader that the kids who become caught up in Brain Burst, the program that allows access to the accele...
Our week-long gift guide wraps up with the one thing everyone wants: videogames! A smattering of the best games for every otaku on your Christmas shopping list awaits.
― Clannad There are a couple factors that make this visual novel release basically the ideal otaku Christmas gift, so let's run them down: Long-awaited English-language release of the visual novel most fans of the medium will tell you...
The first season of this insanely bloody drama has captured a worldwide audience of hungry fans, but does it live up to all the hype?
― The action-horror series Tokyo Ghoul is quickly turning into one of the few anime you might have heard of even if you don't regularly follow new Japanese releases. The manga keeps topping the New York Times bestseller list, while merchandise has already crept its way...
Anime is overflowing with villains playing God, trying to determine the next stage of human evolution. Here are six times where mankind was the endangered species.
― They say people never change. Humanity, as a whole, seems to have reached its physical limit. We're taller and faster. We climb higher and jump further. In fact, much of the next stages seem tied to possible biotech and enhancing existi...