News

Boku no Hatsukoi o Kimi ni Sasagu, Kaiji Trailers Posted

posted on by Egan Loo
---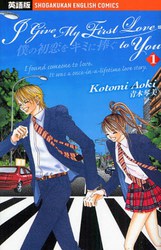 The official website for Takehiko Shinjō's live-action film version of Kotomi Aoki's Boku no Hatsukoi o Kimi ni Sasagu (BokuKimi or I Give My First Love to You) manga has posted the full 90-second trailer . (In the linked page, select the third movie link.)
In this shōjo romance story, actress Mao Inoue (Hana Yori Dango, Anmitsu-hime) plays a girl named Mayu who experiences first love with Takuma (Hana Zakari no Kimitachi e, Robo Rock's Masaki Okada), a boy being treated by her cardiologist father. Takuma tries to hide from Mayu the possibility that his heart will stop functioning at any moment after he turns 20 — even though Mayu already knows. The film will open in Japan on October 24.

The Toho Movie News website has posted the full 93-second trailer for Tōya Satō's live-action film adaptation of Nobuyuki Fukumoto's Tobaku Mokushiroku Kaiji gambling manga. (In the linked page, select the third movie link under the Coming Soon section's lefthand column, and then select the second button in the next window's righthand side.)
Tatsuya Fujiwara (Death Note's Light, Battle Royale's Shuya) stars as Kaiji, a gambler who is 3.49 million yen (about US$36,000) in debt. In the film, actress Yūki Amami (Ponyo on the Cliff by the Sea, Socrates in Love) plays Rinko Endō, a loan shark (originally a male character in the manga) who convinces Kaiji to board a gambling ship to clear his debt — with his life literally at stake. Satō previously directed the live-action versions of Gokusen, Grave of the Fireflies, and Sexy Voice and Robo. The Joost website had streamed NTV's 2007-2008 television anime version in the United States. The Kaiji film will open in Japan on October 10.
---