News

Hetalia Axis Powers Anime Movie Titled

posted on by Egan Loo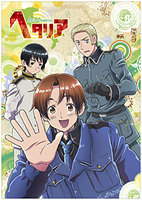 The Animate.tv website reports that the official title of the Hetalia - Axis Powers film will be Ginmaku Hetalia Axis Powers: Paint it, White! (Shiroku Nure!) or literally, "Hetalia - Axis Powers on the Silver Screen: Paint it, White." The film will open in Japan in early summer. The first round of advance tickets with a bonus mobile strap sold out last month, and the second and third rounds will begin sales in March and April with a bonus booklet and a "KaraColle" trading mascot trinket, respectively.
The movie will adapt Hidekaz Himaruya's Hetalia - Axis Powers web manga, just as the two earlier television seasons did and the upcoming new television season will in March. The film will retain the same main staff and cast from the television version, including director Bob Shirohata and the animators at Studio DEEN.
The manga and anime take the archetypal characteristics of about 20 countries and regions, and anthropomorphize them as (mostly) bishōnen characters. The story re-imagines various historical eras including World War I and II. The characters Italy, Germany, Japan, America, United Kingdom, France, Russia, China, and Prussia are slated to appear in the film.
Funimation will release the first two television seasons in North America.
---