News

VitaminX Dating Simulation Game Gets OVA Project

posted on by Egan Loo
In
HuneX
/D3's game for female players, a teacher takes on tough high school class
---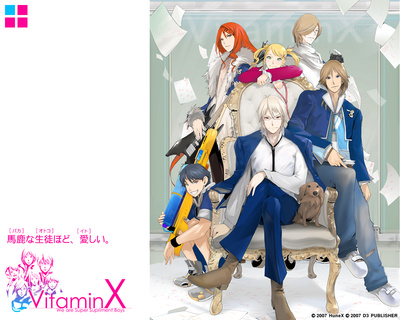 The game company D3 Publisher has announced at the "Vitamin X to Z Ikuze—! Hyper*Explosion" event on Sunday that it is launching an OVA project based on its VitaminX dating simulation game for female players. The announcement was made at the very end of the event, via a video that promised that more information will be provided in the future.
The game is set at Seitei Gakuen, an elite private academy that teaches every level from kindergarten until college in Tokyo. A new female teacher named Yūri Minami is starting her second year of teaching here, and she is now moving up from teaching middle school students to the assignment she had sought after: grammar for high school students. Unfortunately, she gets assigned to "Class X," an infamous group of seniors; it is said that all of their previous teachers have retired due to ulcers or neurosis. Minami must try to reach out to these students and get them into college.
D3 Publisher released this game for the developer HuneX on the Sony PlayStation 2 console in 2007. Since then, the two companies have put out a Nintendo DS port called VitaminX Evolution, a Sony PSP port called VitaminX Evolution Plus, a DS mini-game collection called VitaminY, a PlayStation 2 sequel called VitaminZ, and a PSP port called VitaminZ Revolution.
Source: Dengeki
Image © 2007 HuneX © 2007 D3 Publisher
Update: Event's name pronunciation fixed. Thanks, GokuMew2.
---