News

Boku wa Tomodachi ga Sukunai Light Novels Get TV Anime (Update 2)

posted on by Egan Loo
Yomi Hirasaka
's comedy about school club for people with hardly any friends
---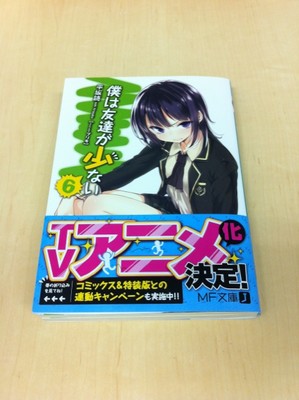 The wraparound jacket band on the sixth volume of Yomi Hirasaka's Boku wa Tomodachi ga Sukunai romantic comedy light novels is announcing this month that a television anime adaptation of the series has been green-lit.
The story revolves around Kodaka Hasegawa, a half-Japanese/half-British transfer student whose delinquent-like blonde hair scares people, and a seemingly perpetually sullen girl named Yozora Mikazuki. The two decide to form Rinjinbu, a club for people with hardly any friends.
Media Factory's MF Bunko J imprint launched the light novels in 2009 with art by Buriki (Denpa Onna to Seishun Otoko), and the artist Itachi has been drawing a manga adaptation in Media Factory' Monthly Comic Alive magazine since last year.
Update: Writer Misaki Harukawa and artist Shōichi Taguchi have been serializing another manga, Boku wa Tomodachi ga Sukunai+ in Shueisha's Jump Square magazine since last year. Thanks, TarutoClown93.
Update 2 Media Factory's blog has listed the cast list.
Sena Kashiwazaki's spelling corrected. Thanks, EmperorBrandon.
---