News

Tiger and Bunny First BD/DVD Volume October (Update)

posted on by Andrew Osmond
Kaze corrects Manga tweet giving September release date.
---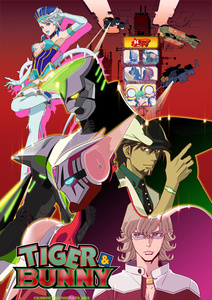 Kaze has tweeted that the first volume of Tiger & Bunny (a DVD/Blu-ray combo pack) will be released in October. This corrects an earlier tweet by Manga UK that Volume 1 would be released on September 23, though Kaze also said it had "something planned for September for Tiger & Bunny."
Kaze is releasing the series through Manga, having announced Tiger and Bunny as an acquisition at MCM Expo in May 2011. The anime centres around heroes for hire — super powered beings known as NEXT who wear sponsor logos while fighting crime on live television. Keiichi Satou (Karas director, The Big O character/mechanical designer) directed the project, and Masafumi Nishida (live-action Kaibutsu-kun) wrote and oversaw the scripts. Manga artist Masakazu Katsura (Video Girl Ai, DNA², I''s, Zetman), a well-known fan of Batman and other superhero comics, created the original character designs.
Update - Kaze's date amendment posted.
---