News

Waterloo Fest Hosts Tibetan Dog, Hells, Library War Films

posted on by Crystalyn Hodgkins
3 films added to lineup for November 15-18 event in Ontario
---

The 2012 Waterloo Festival of Animated Cinema announced on Wednesday that it will screen the Tibetan Dog, Hells, and Library War: The Wings of Revolution anime films. All three screenings will mark the North American premieres of the three films.
Tibetan Dog, a Japanese/Chinese joint production directed by Masayuki Kojima (Monster, Piano Forest) at the anime Studio Madhouse, is a coming-of-age story about a young, city boy (voiced by Tatsuomi Hamada) who suddenly must live in Tibet. The film highlights the natural beauty of Tibet and the boy's interaction with a large, golden-haired Tibetan dog. Shigeru Fujita (Monster) adapted the original character designs, created by Monster and 20th Century Boys manga creator Naoki Urasawa, for animation. The film opened in Japan in January. Tibetan Dog previously screened at France's Annecy festival in 2011. The film will screen on Friday, November 16 at 4:30 p.m.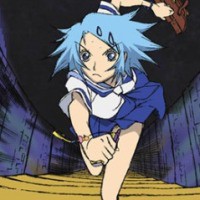 Yoshiki Yamakawa and MADHOUSE's Hells film is an adaptation of Sin'Ichi Hiromoto's Hells Angels manga. The "dark fantasy that is full of cynical gags" follows a girl's journey to hell and back. The anime was first screened theatrically under the original manga's name in 2008. TC Entertainment released the film on Blu-ray Disc with English subtitles under the title Hells on August 3. The film will screen on Thursday, November 15 at 9:00 p.m.

Takayuki Hamana and Production I.G's Library War: The Wings of Revolution film adapts the fourth and final volume in Hiro Arikawa's Toshokan Sensō light novel series. The main cast and staff from the 2008 television series returned for the film, which opened in Japan in June. The film will screen on Saturday, November 17 at 9:00 p.m.
The Waterloo Festival will be held in Waterloo, Ontario from November 15-18. The festival is also screening the Rainbow Fireflies (Niji-Iro Hotaru ~Eien no Natsu Yasumi~), Asura, Blood-C: The Last Dark, A Letter to Momo, and Wolf Children films and the Anime Mirai shorts.
---