News

Live-Action Gaiking Deal Signed With Walking Dead's Valhalla Ent.

posted on by Egan Loo
Film of super robot anime planned with Terminator producer's firm,
Toei
, ANEW
---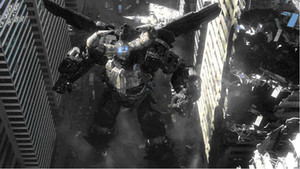 Valhalla Entertainment, the American production company headed by Gale Anne Hurd, announced on Tuesday that it is developing a live-action feature film adaptation of the giant robot anime Gaiking with Toei Animation and All Nippon Entertainment Works (ANEW). Hurd previously produced The Terminator, Terminator 2: Judgment Day, Aliens, Armageddon, and The Incredible Hulk. Valhalla's other projects include The Walking Dead television series for AMC and the Horizon pilot for Universal Cable Productions and the USA Network.
Valhalla describes the story of the anime:
Gaiking follows a young man who is recruited to serve as the lead pilot for the Super Robot Gaiking.  When Earth is threatened by an alien race intent on taking over the planet, he emerges as the only one who can pilot the massive robot.  Together with his fellow co-pilots he must fight off the alien force in order to save mankind.
Toei has been planning CG film adaptations of Gaiking and another anime, Space Pirate Captain Harlock, since at least 2010. It produced a CG pilot of Gaiking with Jules Urbach, the developer of the Light Stage technology used in Avatar and The Curious Case of Benjamin Button, and unveiled the pilot at the Tokyo International Anime Fair 2010. Urbach licensed the rights not only to Gaiking, but also "multiple characters" from Shogun Warriors, the American super robot brand from the 1970s.
Hurd will be the lead producer of the new Gaiking development project with Toei Animation's Yoshi Ikezawa, Joseph Chou (Appleseed). The executive prodcers are ANEW's Sandy Climan, Tim Kwok, and Kozo Morishita of Toei Animation. Valhalla's Director of Development Kris Henigman will oversee the project with ANEW's Vice President of Creative Affairs Annmarie Bailey.
This is ANEW's first development deal. All Nippon Entertainment Works is a joint venture between Japanese anime industry members and Hollywood and is funded with US$80 million partly by the public-private partnership Innovation Network Corporation of Japan (INCJ). Climan, the former President of Worldwide Business Development at Universal Studios, became its first CEO in February.
Source: Deadline
Image © Toei Animation
---