News

Hibi Rock Manga Gets Film This Fall

posted on

2014-03-01

19:15 EST
Original manga of aspiring male rock star resumes serialization this fall, enters final arc
---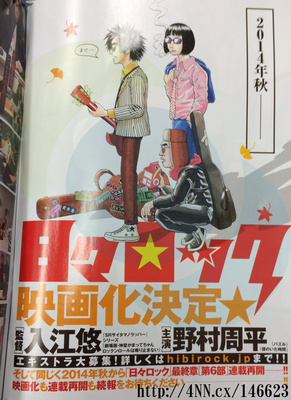 This year's 14th issue of Shueisha's Young Jump magazine is announcing on Thursday that a film adaptation of Katsumasa Enokiya's Hibi Rock (Days Rock) manga has been green-lit. The announcement does not specify if the film will be live-action of animated. The film will premiere this fall in Japan with director Yū Irie helming the project, and Shuhei Nomura is leading the cast as Takurō Hibinuma. A website for the film will open on Thursday.
In addition, the manga will also resume serialization this fall, and the sixth and final arc of the story will begin.
The manga revolves around Takurō Hibinuma, a third-year in high school. He is a boy who gets bullied, and has no talent in studying or sports, but the only thing he can call his own is "rock." He experiences many things through music, and aims to become a rock star.
Enokiya began his series in 2010. It was nominated in 2011 for the 5th Manga Taisho awards. Shueisha shipped the fifth compiled volume in Japan in December.
---
Jacob and Zac chew on Justice League for a while before digging in to your Twitter questions - Evangelion, Kino's Journey, Ancient Magus Bride and a whole lot more!
― ANNCast Episode 311 - New Dominion Thank Police Jacob and Zac chew on Justice League for a while before digging in to your Twitter questions - Evangelion, Kino's Journey, Ancient Magus Bride and a whole lot more! You can listen to the ...
Our 2017 Holiday Gift Guide begins with an enormous gilded mountain of 2017's biggest and brightest DVD and bluray anime releases!
―
What's the difference between letterboxing and pillarboxing? And what are those tiny black borders you see on some old anime that don't have any of that? Justin Sevakis explains.
― Duc asked: Every once in a while, especially when I'm watching an older movie on Blu-ray, I'll see a thin border around the picture. Why is that there? Also, can you explain the difference between pillarboxing and letterb...
Our correspondent saw the live-action Fullmetal Alchemist movie during its world premiere at Anime NYC this weekend - here's her full report, plus comments from the director!
― The live-action Fullmetal Alchemist movie, directed by Fumihiko Sori, made its world premiere at the Tokyo International Film Festival on October 25 and will open in Japan on December 1. Luckily for us, the movie made a specia...
Gabriella revisits the anime adaptation of this hit JRPG to see if it's worth watching on its own merits, while Paul runs down all this week's new releases along with a new king-sized Shelf Obsessed!
― Since in-game purchases seem to be a hot topic in the video game world these days, I figured I'd offer up a potentially obvious piece of advice as someone who's bought and collected all kinds of junk ...
Erina's evolution comes to a head as Soma battles Tsukasa in this exciting volume. Rebecca Silverman has the details.
― Ever since Erina's father Azami Nakiri returned to Totsuki in an orchestrated semi-hostile takeover, the school has been in an uproar. Not only is he trying to remake Japan's culinary world in his own image, but he's also dedicated himself to stamping out what he sees as unnecessary...
The complete manga that inspired the award-winning film is finally available in English. Rose Bridges compares this edition to its adaptation and as a work of historical fiction on its own.
― When I saw the film version of In This Corner of the World at Otakon this year, I was impressed and thrilled, but also struck by its odd plot structure. Nearly all of the film's driving narrative is in the third...
All of the news headlines from this weekend's Anime NYC event in New York City, plus our cosplay galleries and plenty of photos from around the convention floor!
― November 17-19, 2017, New York City Cosplay Galleries Cosplay Gallery Day I Cosplay Gallery Day II Photos From Around The Convention Floor Day One Headlines Viz Media Licenses Mazinger Z Infinity Film Viz Media Licenses That Blue Sky Feel...
With Legend of the Galactic Heroes finally available streaming, it's time to dive into the incredible, sprawling and legendary world of 1980s space opera anime!
― After decades in relative obscurity in the west, HIDIVE began streaming Legend of the Galactic Heroes, a 110-episode OVA space epic that started in 1988. The series languished on shared fansubs for nearly 30 years, likely in part to its gi...
The novel that inspired this season's zodiac-themed battle royale proves that the book isn't always a richer experience than the adaptation. Lynzee Loveridge examines this paper-thin story.
― As an anime fan, it's hard to ignore the works of NisiOisin. The anime adaptation of his Monogatari novels is renowned for the symbiotic relationship between studio Shaft's art style and the author's indulgent c...
Director Tomonori Sudou and Noriko Shitaya, the voice of Sakura, share their feelings on this ambitious movie adaptation of Fate/stay night's final route.
― On November 10th this year, Fate/stay night: Heaven's Feel I. presage flower premiered at the Ace Hotel in downtown Los Angeles to thunderous excitement from attending fans, one week before it would open in theaters across the USA. We sat down wi...
It's time for a speed round! Netflix original anime, Japanese daylight savings time, anime spinoff justification and much more!
― Looking at the Answerman inbox, it looks like it's time for another one of these. Samuel asks: Does Japan observe Daylight Savings? Please be more broad than a simple YES or NO. No. Heh, sorry, couldn't resist. The answer is still "no, and they never have." Every once in ...
Our FATE FRIDAYS feature continues with the mythic inspirations between the heroes of Fate/Zero. How do characters like Alexander the Great and Gilles de Rais compare to their real-world counterparts?
― Welcome back to our compendium on the legends behind Type-Moon's hit Fate franchise! Part one was all about Fate/stay Night, and you can read it here. This time, I'll be covering F/SN's prequel series...
The first movie in this two-part shojo adaptation beautifully realizes a bygone era in both Japanese history and classic manga. Kim Morrissy reviews this uniquely charming romance film.
― Haikara-san ga Tōru translates roughly to "Here comes a modern woman," but the film itself is a blast from the past. It's an adaptation of a 1970s shojo manga, which was set in the Japan of the 1920s. Even the origi...