News

Jigoku Sensei Nube Neo Manga Series to Start in May

posted on by Emma Hanashiro
---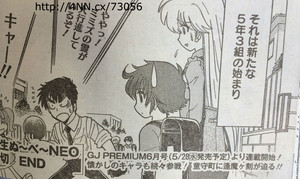 This year's ninth issue of Shueisha's Grand Jump magazine announced on Wednesday that Takeshi Okano and Sho Makura's Jigoku Sensei Nube manga will receive a sequel in Grand Jump Premium. The sequel series, titled Jigoku Sensei Nube Neo, will begin serialization on May 28 in Grand Jump Premium's June issue.
Jigoku Sensei Nube returned as a one-shot manga titled "Jigoku Sensei Nube: Ōmagatoki" in Grand Jump 15 years after the series ended in Weekly Shonen Jump magazine. That one-shot ran in the ninth issue of Grand Jump on Wednesday. In the new story, the title teacher Meisuke "Nuubee" Nueno meets a new female instructor.
The ninth issue of Grand Jump also published the latest chapter of the Reibaishi Izuna Ascension spinoff manga. The series stars Izuna, an exorcist girl who appeared in Jigoku Sensei Nube.
Nuubee stars in the original manga series as a young male teacher whose left hand is an "oni hand." He resolves cases by using the power of his left hand to purify evil spirits.
Makura and Okano serialized the original manga from 1993 to 1999. Nuubee is a playable character in J-Stars Victory Vs., the crossover fighting game that just debuted last month on PlayStation 3 and PlayStation Vita.
---