News

One Piece Film Gold Opens in Malaysia on August 18

posted on by Rafael Antonio Pineda
Golden Screen Cinemas will screen new
One Piece
film
---
Southeast Asian film distributor Odex revealed during the Penang Anime Matsuri in Malaysia last weekend that Malaysian cinema chain Golden Screen Cinemas will begin screening the One Piece Film Gold anime movie on August 18.
Odex previously announced plans last December to distribute the film in Singapore, Malaysia, Indonesia, and the Philippines.
The film's official Japanese website previously streamed a trailer for the film last week.
Tesoro: Welcome to the world's largest entertainment city, Gran Tesoro!
Text: The ultimate entertainment begins!!!
Text: Golden Emperor - Gild Tesoro
Text: I am the owner of this ship. My name is Gild Tesoro.
Luffy: Go!!
Carina: I said before, didn't I? The one who's tricked is the loser.
Akainu: So you're saying for me to just let this slide??
Man: Most people know him as "Monster."
Tesoro: Everything will be dominated by gold!
Text: The monster of the New World begins to move
Tesoro: Those without money can't obtain anything!
Tesoro: Their only choice is to be controlled.
Luffy: I'm telling you... I won't be controlled!
Sanji: You damn jerk!
Chopper: Zoro!
Tesoro: Become enraged, Straw Hat!!
Everything you tried to protect will be swallowed up by my power!
Text: Is what awaits them domination?
Nami: Luffy!
Luffy: You're exactly like that one guy I hate so much!
Text: Or freedom?
Tesoro: This is the form of a god!
Luffy: Tesoro!!

One Piece Film Gold will open in Japan on July 23.

Kazuhiro Yamaji (Kamen Rider Blade's Kei Karasuma, Psycho-Pass' Jouji Saiga, One Piece's Senor Pink) will guest star in the film as the main antagonist Gild Tesoro (pictured far left in image at right). Gild Tesoro is a casino king who controls the huge golden ship Gran Tesoro. He is a devil fruit user who ate the "Gol Gol fruit." He is an extremely rich man who is said to possess 20% of the monetary "Beli" that exist in the world.
The other guest cast members include:
Hikari Mitsushima as Carina, a popular and mysterious songstress in Gild Tesoro's crew, with ties to Nami's past.


Gaku Hamada as Mr. Tanaka, a devil fruit user who ate the "nuke nuke" fruit. With his secretive devil fruit powers he is in charge of Gran Tesoro's internal security.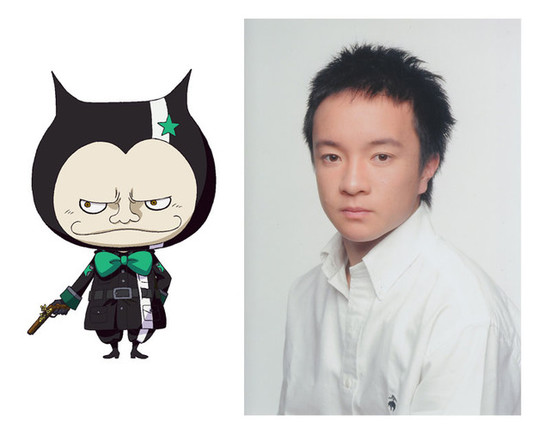 Nanao as Baccarat, a devil fruit user who ate the "lucky lucky" fruit. When she touches someone, their luck changes. She is a mysterious and elegant woman who acts as an escort for the Straw Hat pirates. She is Gran Tesoro's concierge who attends to VIPs visiting the area.


Kinya Kitaōji as Reizu Max, a famous gambler who is actually a key figure in the Revolutionary Army.


Comedian Kendo Kobayashi as Dice, a gigantic card dealer and part of Gild Tesoro's crew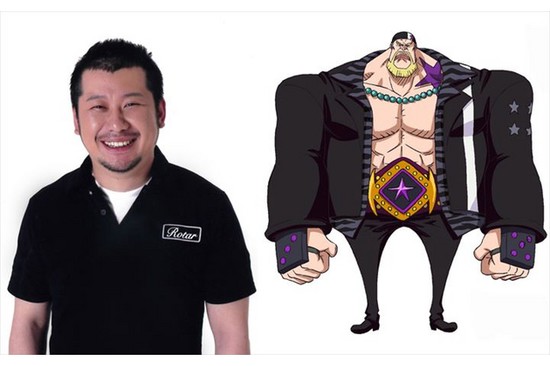 Actor Arata Furuta as Kent Beef Jr. and Pork, two partners who compete in the turtle car race with Luffy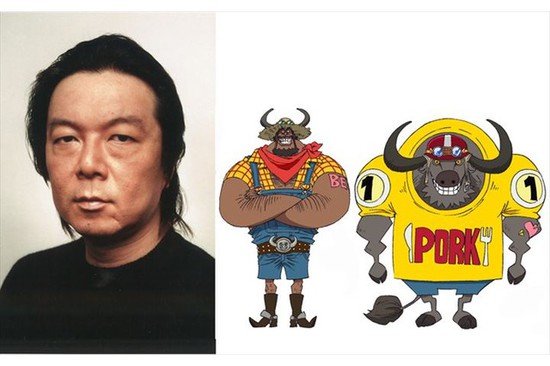 Comedian Korokke as Jimmy Myers, another turtle car racer, and the Red Eyed Owls that cry out when intruders are detected


Comedian Nadaru as Morkin, a member of the Long Long Pirates who attack the Straw Hat Pirates


GLIM SPANKY will perform the film's theme song "Ikari o Kure yo." In addition, Mayumi Kojima will perform an insert song titled "Gold & Jive ~ Silver Ocean" that will appear in the film's opening sequence. Kojima previously performed the opening theme song for Ghost Hound. The song will be a "big band swing" song over 10 minutes long.

Original manga creator Eiichiro Oda is serving as the film's executive producer as well as being credited with the original work. Oda also served as the executive producer for the previous film in the franchise, One Piece Film Z. Additionally, Oda also designed the various new costumes for the Straw Hat crew for the film, drew the rough drafts for the new characters, and also drew the film's first visual (pictured at left).
Hiroaki Miyamoto (One Piece episodes 352-679, assistant director for One Piece: Baron Omatsuri and the Secret Island) is directing the film, and Tsutomu Kuroiwa (live-action Black Butler film, live-action Liar Game: The Final Stage film, live-action The Perfect Insider TV series) is writing the script. Masayuki Sato designed the characters for animation, and is also serving as chief animation director. Kazuo Ogura is the art director, while Nobuhito Sue is credited for art setting.
---