News

Fate/Grand Order TV Anime Special's 1st Promo Video Reveals New Year's Eve Premiere

posted on by Egan Loo
Airs & streams at 10:00 p.m. on December 31 with theme by
Maaya Sakamoto
---
The live-streamed "Fate/Grand Order Caldea Station Vol. 4 Pre-Seventh Singularity Special" program debuted a promotional video for the Fate/Grand Order: First Order- television special on Tuesday. The program and the promotional video announced that the feature-length special will premiere on December 31 at 10:00 p.m. It will run on the Tokyo MX, Gunma TV, Tochigi TV, and BS11 channels. It will also simultaneously run on Niconico (the service that also streamed Tuesday's program).
Maaya Sakamoto (Flying Dog) is performing the theme song "Shikisai" (Color) heard in the video. The video introduces the story premise of this adaptation of TYPE-MOON's smartphone role-playing game Fate/Grand Order:
The story is set in the year 2015, during the final era over which magic still held sway. The humanity survival and security organization Caldea was established to observe the world that can only be seen by magic and the world that can only be measured by science — as well as to prevent the final extinction of mankind.
Thanks to the efforts of many researchers, the path of human history has been ensured for 100 years into the future. However, without warning, the realm of the future that was under constant observation by Caldea vanished. The extinction of humanity in 2017 was observed — no, confirmed.
The apparent cause of the extinction was in the Japanese city of Fuyuki in 2004. In that city, there was an "unobservable realm" which had never existed until now.
Caldea issued the Grand Order for a "Holy Grail Expedition," to investigate, uncover, and possibly destroy the singularity that apparently will cause the extinction of humanity.
The cast includes:
Nobunaga Shimazaki
as Ritsuka Fujimaru, one of the Master candidates of Caldea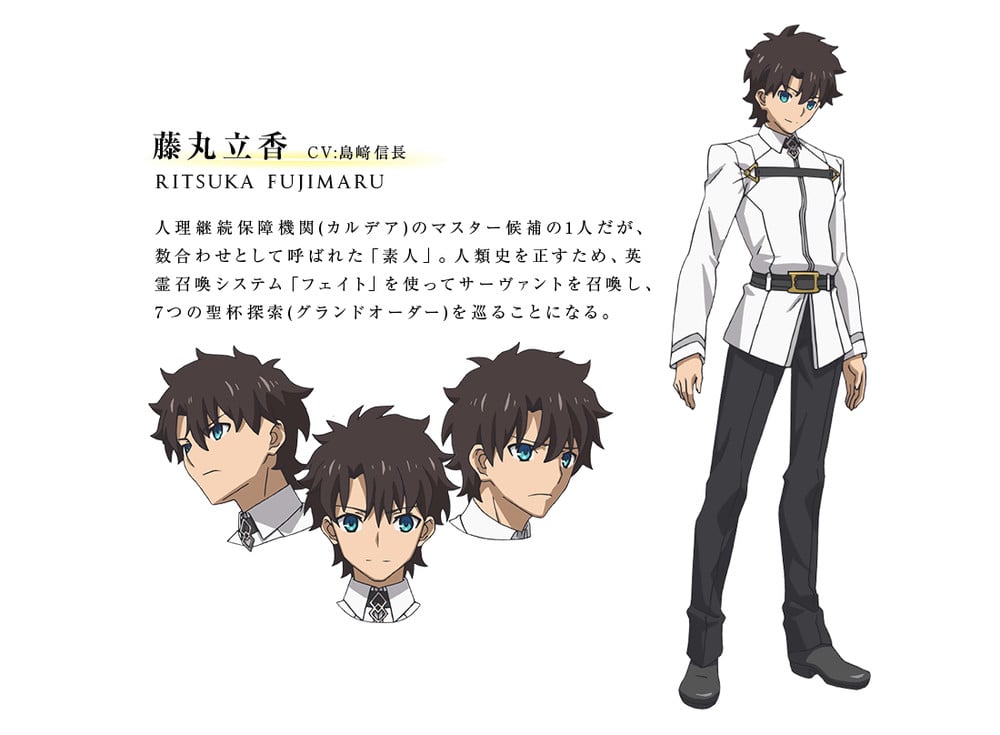 Rie Takahashi as Kyrielight Mash, a girl with an mysterious air about her, who works at Caldea

Ayako Kawasumi as Fou, a cute animal attached to Mash

Madoka Yonezawa as Olgamarie Animusufia
Kenichi Suzumura as Romani Aakiman
Tomokazu Sugita as Refu Rainōru
*The staff has used multple Romanization spellings for the characters' names.
Hitoshi Nanba (Baki the Grappler, Gosick, Heroman) is directing the special with assistant director Takurō Tsukada at the studio Lay-duce (Magi: Adventure of Sinbad, Classroom Crisis, Go! Go! 575).
Ayumi Sekine (Makura no Danshi) wrote the script based on Kinoko Nasu's original story concepts, and Keisuke Goto (Yatterman Night) is adapting Takashi Takeuchi's game character designs for animation. Takashi Akaishizawa is credited with design works. Ryo Kawasaki (Luger Code 1951, Reikenzan: Eichi e no Shikaku) is composing the music. Takeshi Takadera is directing the sound at Half HP Studio.
The other staff members include:
The anime special is actually part of a longer year-end special, Fate Project Ōmisoka TV Special ~First & Next Order~ (Fate Project New Year's Eve TV Special ~First & Next Order~).
The game has been downloaded over 7 million times since it launched on Android and iOS devices in summer 2015.
---