News

Sword Art Online Film Earns Over 600 Million Yen Outside Japan

posted on by Rafael Antonio Pineda
Sold 700,000 tickets overseas, made US$1.35 million in 1st N. American weekend
---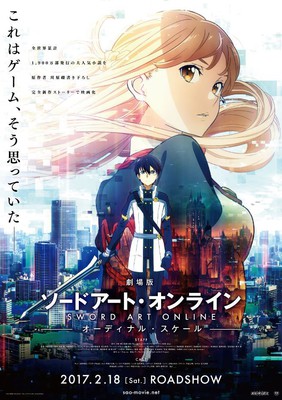 The Sword Art Online the Movie: Ordinal Scale anime has sold over 700,000 tickets for the equivalent of more than 600 million yen (about US$5.32 million) in foreign box office ticket sales outside Japan. The film surpassed US$1.35 million in ticket sales in its opening weekend in North American theaters.
The film also opened in Taiwan, South Korea, Thailand, and Mexico over the past five weeks, and it ranked in the top 10 at the box office in all four countries. It earned 150 million yen (US$1.3 million) and ranked #3 in its first weekend in Taiwan. It earned 80 million yen (US$700,000) in South Korea and 50 million yen (US$400,000) in Singapore. The film is opening in Hong Kong, Indonesia, Vietnam, the United Kingdom, and Italy, and dubbed versions are playing in Germany, Mexico, France, and Italy.
The film will return to U.S. theaters with an English dub starting on April 22.
The film opened in Japan on February 18, and sold about 308,376 tickets for 425,762,760 yen (about US$3.76 milion) in its opening weekend. The film was the first anime film to rank #1 in both weekend attendance and weekend box office receipt totals since Makoto Shinkai's your name. The film also set the opening-weekend record among films distributed by Aniplex. It has since sold more than a million tickets in Japan.
Source: Anime! Anime! (Katsunori Takahashi)
---