News

Pokémon GO Game Details Gym, Battle Updates

posted on by Jennifer Sherman
New Gym system, Raid Battles, badges, items revealed
---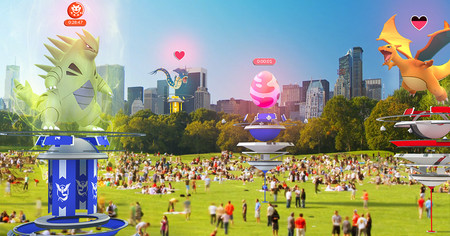 Game developer Niantic announced the details of its update for the Pokémon GO smartphone game's Gym and battling systems on Monday. The company is shutting down in-game Gyms on Monday in preparation for the update, which will launch "slowly over the next few weeks."
After the update, Gyms will consist of six permanent slots that will be filled by the controlling team's Pokémon. Only one of each Pokémon species will be able to enter each Gym at one time. Members of opposing teams will battle a Gym's Pokémon in the order that they were assigned to the Gym. Pokémon in Gyms will lose motivation over time, making them easier to defeat. They will also lose motivation after another team's Pokémon defeat them in battle. Players will be able to restore motivation by using Berries. When a Pokémon loses all motivation, it will leave a Gym.
Players will be able to receive and level up Gym Badges through battling, giving Berries to Gym Pokémon, and spinning a Gym's Photo Disc. In addition to PokéStops, players will be able to spin Photo Discs on Gyms to receive items.
In the new Raid Battle feature, players will cooperate to defeat an "extremely powerful" Raid Boss Pokémon. Before a Raid Battle, a Gym's Pokémon will return to their Trainers, and an egg will appear over a Gym. If players defeat the Raid Boss within a five-minute time limit, they will each be able to receive the defeated Pokémon. Participants in Raid Battles will need Raid Passes in order to take on a Raid Boss. One Raid Pass will be available every day when people visit a Gym, and players will only be able to hold one Raid Pass at a time. The in-game shop will offer Premium Raid Passes. Raids will debut as a beta for select players, and Niantic will invite more players "over a few days."
Exclusive items will be available by defeating a Raid Boss. Rare Candies will turn into any Pokémon's candy when it receives them. Golden Razz Berries will greatly increase the chance of catching an encountered Pokémon. Fast and Charged Technical Machines will allow players to permanently change the two types of a Pokémon's moves.
Niantic revealed details for the game's one-year anniversary plans earlier this month. Niantic will host its first real-world Pokémon GO event, Pokémon GO Fest Chicago, on July 22 at Grant Park. Tickets for the event go on sale on Monday. The in-game Solstice Event is also ending on Monday.
The Pokémon GO app launched in select countries including the United States on July 6, and has since launched in more than 50 countries.
---