News

Live-Action 'The Almost Got Laid Committee' TV Series Reveals More Cast

posted on by Jennifer Sherman
Shōtarō Mamiya, Kanshūji Tamotsu, Yūka Ogura,
Kenta Hamano
, more join cast
---
The official website for the new live-action television series of Takashi Yoshida's Yareta kamo Iinkai (The Almost Got Laid Committee) manga revealed additional cast members on Thursday.

The new cast members are:
Shōtarō Mamiya as Nobuteru Masuda (age 32)
Kanshūji Tamotsu as Nobuteru Masuda (age 17)
Yūka Ogura as Yumiko Kurahashi
Kenta Hamano as Sakutarō Yoshimura
Yuka Kuramochi as Marie Akimoto
Hannya as Master Maki
Yūki Morinaga as Yoshihiro Hasebe
Rena Takeda as Hiromi Kawakami
Munenori Nagano as Masayuki Nagasako
Shiori Enatsu as Yuriko Hara
Toru Tezuka as Kakukakusuru Otoko
Yōsuke Sugino as Wataru Sawabe
Maika Yamamoto as Nobuko Machida
Akiyoshi Nakao as Shinichirō Yasunaga
Aoi Morikawa as Ayano Hirayama
Masato Yano as Keisuke Tanido
Mari Yamachi as Natsumi Endō
Megumi as Satsuki Iwase (age 35)
Mayuko Fukuda as Satsuki Iwase (age 25)
Yūta Koseki as Keisuke Koshida
The cast members are listed in order of the episode they will appear in. Mamiya, Tamotsu, and Ogura will appear in the first episode, titled "Yamanami-hen."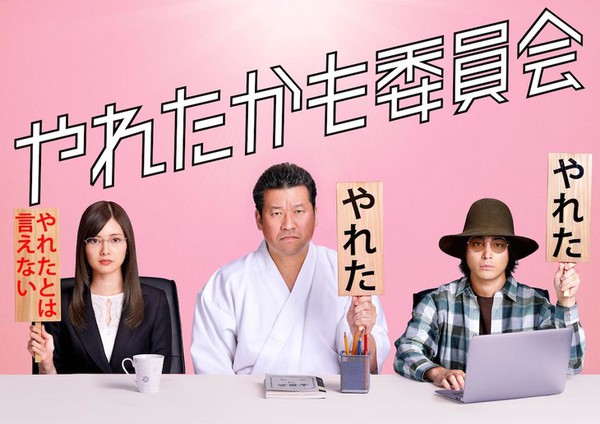 Masatoshi Yamaguchi is directing the series. The series stars Jirō Satō as Yuzuru Nōjima, Nogizaka 46's Mai Shiraishi as Ayako Tsuki, and Takayuki Yamada as Oasis. The names have been changed from the original manga, where the characters were named Akira Nōjima, Michiko Tsuki, and Paradiso. In addition, Saki Tateno plays Shiina.

A separate live-action series starring Ryuuji Akiyama, Chikara Honda, and Aya Asahina premiered on AbemaTV in January.
The manga's story centers on the titular "committee," comprised of a martial artist, a musician, and an executive, who listen to the stories of clients who come in to hear their judgement. Clients come in and tell their stories about their romantic lives, focusing on points where they think they might have had sex, but ended up not doing it. The committee then delivers their judgement on whether or not they think the client might have actually ended up having sex at that point if something had been different.
Yoshida launched the manga in April 2016 on the note website, and he also publishes the series in Shuho Sato's Manga on Web web magazine, and on the websites cake and PixivFANBOX. Yoshida asks readers to send in their own stories, which he then portrays in the manga.
Futabasha published the manga's second compiled book volume on March 30.
Source: Comic Natalie
---