×
remind me tomorrow
remind me next week
never remind me
Subscribe to the ANN Newsletter • Wake up every Sunday to a curated list of ANN's most interesting posts of the week.
read more
News

Comikey Licenses 10 New Manga Including Arte, Fenrir, Hero Classroom

posted on by Crystalyn Hodgkins
All new manga will debut on digital service this month.
---
Digital manga publisher Comikey announced on Saturday that it has licensed 10 new manga that it will release in November, including six titles from Square Enix, three from Hakusensha, and one from Coamix.
The new manga include:

Title: Hero Classroom (Eiyū Kyōshitsu)
Author(s): Shin Araki (original light novel author), Haruyuki Morisawa (original character designer), Koara Kishida (manga)
Summary: Long ago, a Great Hero defeated the Demon King and brought peace to the world. To maintain that peace, Rosewood Academy was established to nurture heroes-in-training. Transfer student Blade is a carefree boy whose only goal is to make friends with the students at his new school. On the surface, Blade seems like an ordinary boy, but he is hiding a miserable secret. Join Blade's new friends in unraveling the mystery surrounding Blade and on their journey to become fully fledged Heroes!

---

Title: The Girl I Like Forgot Her Glasses (Suki na Ko ga Megane wo Wasureta)
Author(s): Koume Fujichika
Summary: Kaede Komura has a huge crush on his seat partner, Mie-san. She, however, has terrible eyesight, and tends to either forget or break her glasses! Komura-kun offers her a helping hand, and as they grow closer, their feelings for each other grow too.

---

Title: The Ice Guy and His Cool Female Colleague (Kōri Zokusei Danshi to Cool na Dōryō Joshi)
Author(s): Miyuki Tonogaya
Summary: Himuro-kun is a living descendant of the Snow Woman from Japanese folklore. But anytime he's around his eccentric yet kind colleague, Fuyutsuki-san, he totally freezes up! Despite the snowstorm of love that rages on in his heart, and her complete cluelessness, will he take a step forward or stay frozen in place?

---

Title: Fenrir
Author(s): Chūgaku Akamatsu (artist), Mioko Ohnishi (artist)
Summary: Somewhere among the violent and chaotic grasslands of 12th century Mongolia, lives a boy named Temujin. One day, while on the brink of death, he has a fateful encounter with a beautiful and mysterious woman that will affect history. This is the story of a boy who will shake the earth.

---

Title: My Awkward Senpai (Bukiyō na Senpai.)
Author(s): Makoto Kudo
Summary: Kannawa-senpai is considered many things, but smooth is definitely not one of them. Then she meets Kamegawa, her new Kouhai. He's cute, a little nerdy, and easy to talk to. How will this awkward Senpai be able to handle these new feelings?!

---

Title: My First Times with Suwa-san (Hajimete no Suwa-san)
Author(s): Yasuka Manuma
Summary: Yamanaka Suguru always viewed his "first times" as challenges to overcome. But when a girl suddenly confessed to him and become his girlfriend, she introduced him to countless new challenges that he's never known about.

---

Title: Your Tears are Mine (Kimi no Namida wo Nomihoshitai!)
Author(s): Ayumu Hirose
Summary: Kippei is a highschool boy feared for his mean look, but in reality, he's just a kind and gentle boy that cries a lot. Umegami is the beautiful and popular school idol, adored by many, however she also has a hidden side... One day, their fates unexpectedly intertwine when cry baby Kippei asks her out expecting to be rejected... A clumsy and unusual love story begins!

---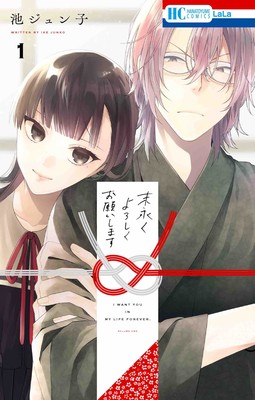 Title: Together Forever (Suenagaku Yoroshiku Onegaishimasu)
Author(s): Junko Ike
Summary: After her father has suddenly passed away, Takatsukasa Hikaru was adopted by her cousin, Kuzukiri Kiyomizu. Hikaru expresses that she is madly in love with Kiyomizu, but he is having none of it.

---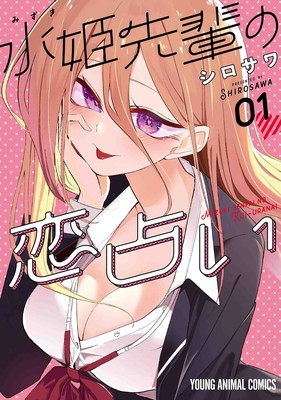 Title: Mizuki-senpai's Love Fortune-Telling (Mizuki-senpai no Koi Uranai)
Author(s): Shirosawa
Summary: High school second-year Sakagami Sojiro is late for school one day, when he is given a ride by a mysterious girl who looks like a third-year, and claims that her fortunes are 100% accurate. She declares that he is fated to be with a girl younger than him... but little does he know that she's referring to herself! So begins a comedy of love between the fumbling Mizuki-"senpai" and clueless Sakagami!

---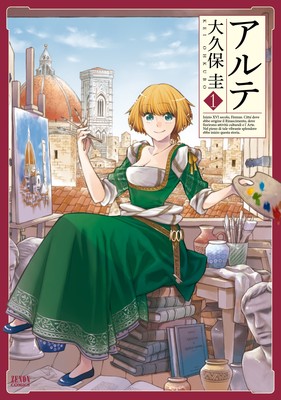 Title: Arte
Author(s): Kei Ohkubo
Summary: The story takes place in 16th century Florence during a time when women were relegated to the role of wives and caretakers, a young noble girl named Arte dreams of being an artist's apprentice. One day she stumbles on the workshop of the eccentric Maestro Leo who decides to accept her as his student. Follow Arte on her journey as she discovers the joy and struggles on the path to becoming a maestro.

---
Comikey announced its partnership with Shogakukan in July, and began releasing eight titles in English digitally from the publisher. Comikey is also releasing manga from Shinchosha, Compass, Hakusensha, and Coamix.
Comikey users can read the first chapter and most recent chapter of each manga for free. For other chapters, users have the option to purchase the digital "Keys" currency to unlock those chapters. Comikey stated it plans to first focus on catching up on the latest chapters in Japan before simultaneously publishing new chapters alongside their Japanese debut.
Source: Press release
---