Animax's LaMB to Rock with Simple Plan and The Click Five
Canadian band Simple Plan's 'I Can Wait Forever' to be the title track for LaMB,
Animax Asia
first original animation production
American band The Click Five's song 'Summertime' to also feature in LaMB
Simple Plan to perform as an animated band in LaMB, while The Click Five's album will feature in the story
Animax Asia and Peach Blossom Media to produce music videos for both songs, to premiere on
Animax
across Asia and online in December 2008
2 August 2008, Singapore – Animax Asia's first original animation movie produced in high definition (HD), LaMB, is set to rock with songs written and performed by popular French-Canadian pop punk band Simple Plan and hot American rock band The Click Five.
Not only will their music be heard, band members of Simple Plan will perform as an animated band in the show, while The Click Five's album will be showcased in the story! LaMB marks both bands' first-ever involvement in an Asian production, undertaken by premier anime and youth cable channel Animax Asia for TV, mobile and online platforms across the region!
Headlining the soundtrack for the multiplatform, multimedia animation project, is the Simple Plan single 'I Can Wait Forever' from their self-titled album 'Simple Plan' released in 2008, as the title track for LaMB to feature on all media rollouts.
Animax Asia and Peach Blossom Media will produce an animated music video for the song to premiere December 2008 on Animax channels across Asia as well as online. In addition, all of Simple Plan's band members will be drawn into the story and will perform as an animated band as one of the highlights of LaMB, also a first for the band!
The Click Five's single 'Summertime' off their 2007-released album 'Modern Minds and Pastimes' will also feature in LaMB's TV, online and mobile properties, with the album art featured in the show, and characters making references to the band and song in their dialogues. Animax Asia will be producing a live-action music video for The Click Five's 'Summertime' which will include action sequences from LaMB, also to debut on Animax channels across Asia as well as online this December.
While LaMB marks The Click Five's first-ever involvement in an animation project, it represents Simple Plan's second and more adventurous venture into animation, having previously performed the theme song for Hannah Barbera Production's What's New, Scooby-Doo? and provided songs for various episodes of the series that aired in North America.
"Animax Asia is delighted to have two very popular bands on board for LaMB. Well supported internationally, both bands have a huge following amongst our youth and young adult audiences across Asia. Their involvement brings an exciting new dimension to the production as we endeavour to produce a truly world class original animation production," said
Gregory Ho
, Vice President & General Manager, Animax Asia.
Hailing from Montreal, Quebec, Simple Plan is the five-time winner of the 'People's Choice award for Favourite Canadian Group' from top music TV channel
MuchMusic
in Canada. The popular quintet comprises lead vocalist and guitarist Pierre Bouvier, guitarist Jeff Stinco, rhythm guitarist and vocalist Sébastien Lefebvre, drummer Chuck Comeau, as well as bassist and vocalist David Desrosiers. Known for worldwide hits including 'Addicted', 'Perfect', 'Welcome To My Life', 'Crazy' and 'When I'm Gone', Simple Plan has recorded five albums including 'No Pads, No Helmets...Just Balls' (2002), 'Still Not Getting Any...' (2004), and 'Simple Plan' (2008), along with 'live' recordings 'Live in Japan 2002' (2003) and '
MTV
Hard Rock Live' (2005).
Formed in 2004, Boston-based The Click Five is made up of five Berklee College of Music students including Kyle Patrick on lead vocals and guitar, Joe Guese on guitar,
Ethan Mentzer
on bass and vocals, Ben Romans on keyboard and vocals, as well as Joey Zehr on drums, percussion and vocals. The Click Five released two albums including 'Modern Minds and Pastimes' (2007), and 'Greetings from Imrie House' (2005) along with hit singles including 'Just the Girl', 'Catch Your Wave', 'Jenny' and 'Fipside' in the midst of two performing tours in the US, two Asian tours, a tour of the UK, and an ongoing world tour.
"
Warner Music
is thrilled and proud to be part of Animax's LaMB along with the collaboration of Simple Plan and The Click Five. When we were first approached by Animax to come on board this platform, we immediately jumped on as this project is tremendous! The two bands that came into our minds were Simple Plan and The Click 5 which fitted this story like a cliché! Their involvement will no doubt lift this production to a much higher level," said Richard Lim, General Manager, Warner Music Singapore.
About Animax Asia
Animax Asia is 100% owned by
Sony Pictures Entertainment
. Launched on 1 January 2004, Animax is Asia's first youth anime brand specializing in the fastest growing youth entertainment genre - Japanese animation. Asia's programming strategy is to not only offer a dynamic line up of the highest-rated, most popular anime programs as well as shows never before seen outside of Japan, but also original productions, music and technology-lifestyle programs, that are exclusive to Animax Asia.
It is the channel of choice for Asia's trendsetters, image-conscious, tech-savvy youth & young adults, and individuals seeking a unique entertainment experience. The channel now reaches over 29 million households across Asia (including Japan), achieving the fastest roll-out among new channel launches in recent years, and is set to become a leading iconic brand synonymous with popular youth culture. More information about Animax Asia can be found at www.Animax Asia.com, www.Animax-taiwan.com, www.Animax-hk.com, www.animaxindia.com and www.animaxtv.co.kr.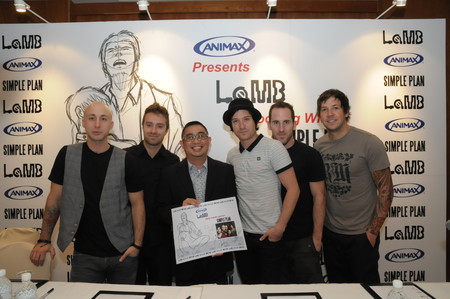 ---