Appliya Releases Free Version of Their First Evangelion Game - Evangelion Puzzle Lite
The "lite" version of the world's first mobile puzzle game for
the Evangelion series lets fans join in the fun for free!
Tokyo, Japan, March 25, 2009 - Appliya Inc., a leading publisher of Japanese mobile applications, is proud to announce iPhone and iPod Touch users can now enjoy a "lite" version of the entertaining Evangelion Puzzle game for free, and with no advertisements!
Evangelion Puzzle Lite is the latest entry in Appliya's Evangelion application series, and it utilizes imagery taken directly from the Rebuild of Evangelion anime movies. Users of the Lite version can enjoy sliding tile puzzles featuring Eva Unit 01, but the full version offers 9 scenes from the anime, including a beautiful portrait of Rei Ayanami, one of the most popular and iconic characters of the Evangelion franchise.
Amateur puzzle players can choose a 3 x 3 puzzle grid on Easy or Normal, but serious puzzle pros will love the challenge of the Hard 5 x 5 grid. When you crank up the difficulty, the time limit for solving the puzzles decreases, so be quick! The app also keeps track of your best puzzle completion times, so you can brag to your friends or motivate yourself to do better. Once you solve the puzzle, you can also save a full-size version of the puzzle image to your photo library and use it as a wallpaper for your iPhone/iPod Touch!
The first applications in Appliya's Evangelion series have been popular with anime fans. In its first few days of availability, Evangelion Clock shot up to #3 on the best-selling list of the Utilities category on the Japanese iTunes App Store. As a token of appreciation for the support from the anime fan community, Appliya is providing Evangelion Puzzle Lite at no cost. Appliya also continues to update the previously released apps in the Evangelion series. Recently, new functionality has been added to Evangelion Clock, and 8 new wallpapers are coming to Evangelion Calendar in the near future.
More info:
Evangelion vol.5: Puzzle Lite
Application for: iPhone, iPod Touch
Price: FREE!
Evangelion vol.5: Puzzle (full version)
Application for: iPhone, iPod Touch
Price: $1.99
About Evangelion
After a catastrophic event called the Second Impact, the Earth's population was halved. All that remains of Japan is Tokyo-3, a city that is constantly attacked by giant creatures that seek to eradicate the human race, called Angels. Fourteen-year-old Shinji Ikari is summoned by his estranged father to urgently come to the headquarters of NERV, a military organization that deals with the destruction of the Angels through the use of giant cyborgs called Evas. Shinji's objective is to pilot the Eva Unit 01, while teaming up with the Eva Unit 00 pilot, Rei Ayanami, and Eva Unit 02 pilot Asuka Langley Soryu. Together, these three teenagers will battle the Angels, and decide the fate of the world.
About Appliya Inc.
Appliya specializes in the production and publishing of iPhone and iPod Touch applications. The company has recently partnered with Japanese mobile industry giant Softbank Mobile Corp. to bring the unique elements of Japanese culture to an international audience through mobile applications. Their efforts include exclusive licensing deals with major anime and manga producers. Appliya will also have collaborations with Japanese artists and photographers, Haraju-ku fashion related applications, Akihabara otaku related apps, and other applications focused on more traditional aspects of Japanese culture.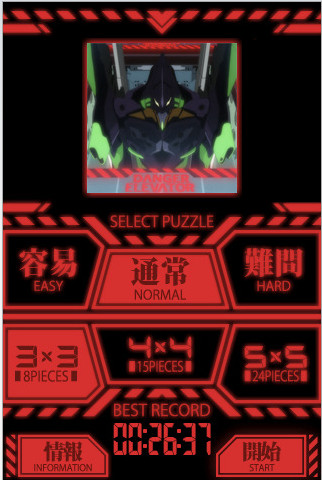 ---
this article has been modified since it was originally posted; see change history