New People Complements the Holidays with Fun Japanese Pop Inspired Gift Ideas
Web Store Offers A Wide Selection Of Fun Products Inspired By Japanese Pop Culture That Are Available Just In Time For The Holidays
San Francisco, CA, December 8, 2009 – NEW PEOPLE, a dynamic entertainment destination bringing the latest examples of Japanese popular culture to North American shores, offers shoppers something unique with an inspired collection of products and accessories for home, office and wardrobe that are available now from the new web store at www.NewPeopleStore.com.
A variety of fun and inventive pop culture-inspired products from Japan are featured – just in time for the holidays – on the web site and also inside NEW PEOPLE The Store, a retail space located on the mezzanine level of the 20,000 square foot entertainment complex in the heart of San Francisco's historic Japantown at 1746 Post Street.
Think of everyone on your list this year with these unique gift ideas!

For your Girlfriend
Graphic Design Headphones by ZUMREED · $59.95
These smart, slim and stylish headphones will keep you on the beat with large-aperture 40mm drivers designed with neodymium magnet systems for super high quality sound and emblazoned with stylish, colorful graphics.
For your Boyfriend
VINYL KILLER Mini Clubman Model Portable Turntable by RAZYWORKS · $139.95
No one will ever be without the right sounds with a stylish portable record player modeled after the Mini Clubman. Forget about traditional bulky turntables. This is the smallest self-running record player in the world! Instead of spinning a record, the MINI CLUBMAN coasts over the surface of the vinyl, gliding the needle over and into the grooves, playing music from its own built-in speaker. Made in Japan and licensed globally by BMW AG from Germany. 33RPM only. Available in Laser Blue, Dark Silver, Pepper White, and Chili Red.

For your Husband
Boxed Set of Neckties by GIRAFFE · $149.00
GIRAFFE, a specialized brand led by creative director, Masamichi Toyama, is one of the hottest fashion labels in Tokyo. GIRAFFE neckties are categorized into four different stages based on one's body temperature and feeling so one can select ties based on how they feel that day. Ties are available in several colors and varieties and designed for men or women.
For your Grandpa
Fitted Baseball Caps by ZILLON · $44.95
New from famed French designer David Guarino's brand – ZILLON – are these colorful baseball caps that blend traditional with the modern by using stylish Japanese kimono patterns.
For your Grandma
TAKEO Paper Products & DRESSCO Notebooks and Envelopes
Notebook, Large - $20.95
Notebook, Small - $19.95
Envelopes, Long - $7.95
Envelopes, Petite - $6.95
Since its founding nearly 100 years ago, TAKEO has manufactured some of the highest quality paper products in the world. DRESSCO similarly manufactures high quality notebooks with unique cover designs that provide an attractive complement to whatever the writer chooses to upon its pages. Items available in several colors – gold, green, brown, fuchsia, celadon, mint and light blue.
For your Wife
Jewelry & Accessories by Q-POT
Burger Ring · $240.00
Q-POT is a jewelry brand led by designer Tadaaki Wakamatsu and these accessories are a sensation among young girls in Japan today. Modeled after sweet confections and other delicious foods, Q-POT offers a new array of fun and witty jewelry that look good enough to eat!
For your Boss
Graf Zeppelin Metal Model by AEROBASE · $124.95
This photo-etched stainless steel metal model kit is a highly detailed replica of the famed Graf Zeppelin. No need to solder and easy to assemble. Includes cast metal parts and a base for the completed airship.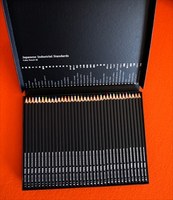 For your Kids
Duller Colored Pencils by IDEA INTERNATIONAL · $54.95
Set of 36 colors
For the budding or established artist is an immaculately-presented set of 36 colored pencils from IDEA INTERNATIONAL's newest stationery imprint, Duller.
NEW PEOPLE offers the latest films, art, fashion and retail brands from Japan and is the creative vision of the J-Pop Center Project and VIZ Pictures, a distributor and producer of Japanese live action film. Located at 1746 Post Street, the 20,000 square foot structure features a striking 3-floor transparent glass façade that frames a fun and exotic new environment to engage the imagination into the 21st Century. A dedicated web site is also now available at: www.NewPeopleWorld.com.
---