Crazy Japanese Cartoons Take Over Brighton at the Asahi Anime Festival
Enter the exciting world of anime and manga, as the Asahi Anime Festival is set to take over the Opticon in Brighton during May bank holiday weekend, for three jam-packed days of activities!
The Asahi Anime Festival is being organised by popular Japanese restaurant Moshi Moshi. Following their successful Matsuri (Japanese summer festival) last year, they will host another free summer festival, this time themed to Japanese comics and animation.
The events kick off on Friday evening, with an open-air concert by Japanese bands including rock-chick Natcuu and performance artist Sputniko. Saturday will see a full day of fun events, including karaoke and manga-drawing competitions, a Japanese-style game show, an authentic Gothic Lolita fashion show and more bands in the evening. Visitors will also have the chance to win tickets to Japan, courtesy of Virgin Airlines.
One of the festival's many highlights will be the cosplay competition on Saturday afternoon - the latest trend where anime fans make outlandish, colourful costumes based on designs from their favourite comics and video games.
Across the weekend, there will be plenty of stalls selling anime toys and gifts, manga books, Japanese snacks and crafts. You won't go hungry either, as Moshi Moshi will be serving a selection of delicious sushi, festival food and Asahi beer.
As a family-friendly event, expect plenty to keep the kids entertained, with Japanese festival games, colouring competition, face painting and the chance to help create a giant chalk manga artwork.
This year's event coincides with the children's parade at Brighton Festival, and May Day is set to be one of the hottest days of the year, making it a perfect time to visit Brighton.
So join us on May 1st for some sun, sea and sushi as anime and manga take over Brighton!
Asahi Anime Festival
Location: Opticon, Brighton (opposite the Town Hall and Moshi Moshi restaurant)
Evening Concert: Friday 30th April, 20:00 – 22:30
Main Event and stalls:
Saturday, 1st May 12:00 – 22:30
Sunday 2nd May 12:00 – 16:00
Admission: Free
http://www.asahianimefest.webs.com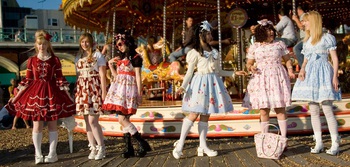 ---