AM2 Unveils the Official 3 Day Passport Outside and Inside Covers
AM2 Unveils the Official 3 Day Passport Outside and Inside Covers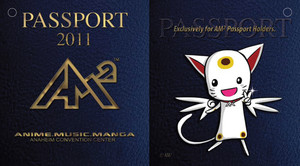 More Fun and Excitement With Major Discounts to Disneyland, Knotts Berry Farm, Medieval Times, Pirates Adventure, Best Buy, Macys, Local Retailers/Restaurants and More for 3 Day Passport Holders From This Summer's Most Anticipated Event Happening July 1-3, 2011 at the Anaheim Convention Center! Get your Passports Today and Experience the Difference!
LOS ANGELES, Calif. (May 31, 2011) ­ This summer's most anticipated animation, music and manga events, AM2, proudly unveils the cover and inside cover images of the official AM2 Passport-the interactive tool that will provide bearers to have premier ahead of the line access for events including concerts, panels, workshops, autograph sessions, Passport Only including Guest of Honor Meet and Greets, Private Screenings of special exclusive anime titles, premier seats at concert events to be up front and personal with performers and major discounts including Disneyland, Knotts Berry Farm, Best Buy, Macys, Medieval Times and many other local theme parks, retailers and restaurants. More info can be found at http://www.am2con.org/
With features that include an area for users to take a Purikura machine image to include as their official Passport photo, maps and information. The AM2 Passport will also include areas for autographs and official stamps for users to collect throughout the convention in order to collect them all for amazing prizes at the end of the convention. AM2 Passport holders will also enjoy at-con benefits, some including:
One hour advanced entry into the Exhibit Hall
Premier entrance/seating in all main events (first come first serve basis)
Premier/fast-line for autograph lines, panels and workshops
Special entry to private parties with select Guests of Honors (preference provided to 3 day Passport holders)
Discount Admission to the AniMaid Café
And More!
Some benefits found with local businesses include:
40% off Admission at Disneyland
20% off Disney Merchandise ($100 purchase or more) at most stores in theme park and Downtown Disney
Discounted admission for Knott's Berry Farm
Discounted admission for Medieval Times Dinner and Tournament
10% off any regularly priced item and 15% off all accessories at Best Buy
10% off of purchases at Macy's
20% off of food at California Pizza Kitchen
20% off of food at House of Blues Anaheim
10% off of food at IHOP
20% off of food at McCormick & Schmick's Grille
and more!

A full list of discounts and benefits can be found online at:

www.am2con.org/attendee-registration/passport-benefits

"AM2 will be the place to be this summer", states Chase Wang AM2 representative, "With a huge line up of amazing guests, concerts, premieres, activities and more! Attendees will have a blast as the Passport pays for itself with the amazing discounts the holder is able to obtain. Just the discount received from a regular admission ticket into Disneyland makes up for the $45 Passport cost. Get your Passports today and experience the difference!"

Attendees can avoid the anticipated huge lines at autographs, premiere screenings, workshops, main events, concerts and panels by purchasing a Passport fast pass for the event. The Passport fast pass will also provide holders with premier seating options at Main Events and at Concert events as well as major discounts with theme parks (i.e. Disneyland, Knott's Berry Farm, etc.), retailers (i.e. Best Buy, Macys, etc.) and local restaurants (i.e. IHOP, Tony Roma's, California Pizza Kitchen, etc.). Bypass the lines and get your Passport today and experience the difference! Passports can be purchased at www.am2con.org

Current Guests of Honors include Akihiko Yamashita, Miho Shimagosa, Scandal, Sadie, Kanon Wakeshima, kanon x kanon, heidi., Gashicon, IBI and MINT with more to be announced soon!

AM2 current activities include Exhibit Hall, AMV¹s, Arcade, Summer Festival, World Cosplay Summit, Behind the Voice Actors Studio, Rum Party Pirates, Masquerade, Cosplay Chess, Dances, Fashion Shows, Table Top, Console Gaming, AniMaid Café, AniMaid Café Host Club, Workshops, Panels, Concerts and more!

Partnerships include Ani.ME. and Cure Magazine

Prize sponsors include Atlas Games, Cosplay Wigs USA, FUNimation, Gaia Online and TokyoPop.

Follow us on Facebook at: http://www.facebook.com/AM2Con

Follow us on Twitter at: http://twitter.com/AM2Con

Also, 25% of all official Passport sales will be donated directly to Japanese Disaster Relief efforts.

About AM2
Located in Anaheim, California ­ AM2, established in 2010, is a multi-day (3 days) event with no general attendance/badge purchase requirement and is aspiring to be a key meeting place for fans that share a common interest in Asian music, Animation/Anime, and Comics/Manga. Nominal fees are charged for certain activities that attendees choose to participate in. AM2 will be held on July 1-3, 2011 at the Anaheim Convention Center in sunny Anaheim, California. More information can be found at www.am2con.org
---