Nozomi Ent. Announces Value-Priced EMMA: A Victorian Romance - Season 2 DVD Set for April 2013
Right Stuf's Nozomi Entertainment Announces EMMA: A Victorian Romance – Season 2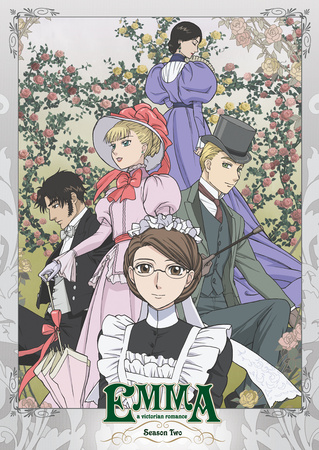 Complete second season available as Litebox-style DVD set on April 2, 2013.
GRIMES, Iowa, Dec. 12, 2012 – Anime producer and distributor Right Stuf, Inc. and its Nozomi Entertainment division are pleased to announce the EMMA: A Victorian Romance - Season 2 DVD set will be available on April 2, 2013.
This new set repackages the entire 12-episode second season of EMMA: A Victorian Romance in a single DVD keepcase. It will feature Japanese audio, English subtitles and English on-screen translations, along with on-disc extras.
****

"…completely captivates and entrances." "Highly recommended." - The Fandom Post

"I am in love." - Anime News Network's Shelf Life

"…if you're looking for a unique anime with some real heart then definitely give this one a shot." "Highly recommended." - DVD Talk

"…there's really no way you can go wrong with this release." - Otaku USA

A "masterpiece that shows the true potential of anime as an international art form" - Anime News Network

****
A historical drama set in late 19th-century London, the series chronicles the love story – and the complications that result – when Emma, an honest and hardworking young maid, and William, an earnest suitor and member of the "gentry" class, fall for each other.
Spanning a total of 24 episodes across two seasons, this anime adaptation of the manga by Kaoru Mori (A Bride's Story) features direction by Tsuneo Kobayashi (The Twelve Kingdoms, Glass Mask OAV, Super GALS!) and scripting by Mamiko Ikeda (Sgt. Frog, Fruits Basket, Rental Magica). The original manga was honored with an Excellence Prize at the 2005 Japan Media Arts Festival and was released in North America by DC Comics' CMX Manga imprint.
Both seasons of EMMA: A Victorian Romance are licensed for English-speaking audiences by and available on DVD from Right Stuf's Nozomi Entertainment.
Visit
emma.rightstuf.com
for more information about Emma: A Victorian Romance.
About EMMA: A Victorian Romance – Season 2
In the faraway village of Haworth, a new chapter in Emma's life has begun. Now employed by the wealthy Mölders family, Emma has resolved to put the past behind her. She'll have to adjust to a new house, a charming (but eccentric) new mistress, and a host of fellow servants, some with buried pasts of their own. Meanwhile, back in London, William is doing his best to uphold his father's wishes as the Jones family heir, but try as he might, he can't forget Emma. Yet, whenever he feels at his worst, Eleanor is always there to comfort him with a warm, shy smile. Could the answer to his broken heart be right before his eyes?
Contains the complete 12-episode second season, plus recap episode.
EMMA: A Victorian Romance - Season 2
Format: DVD (Litebox)
Pre-Book: 3/5/2013
Street Date: 4/2/2013
Runtime: 325 minutes
Genre: Romance / Historical
Suggested Rating: 7+
Audio: Japanese (Dolby Digital 2.0 Stereo)
Subtitles: English subtitles, English on-screen translations
Video: 16:9 Anamorphic widescreen, Color
Catalog #: RSDVD1356
ISBN: 1-57032-725-4
UPC: 7-42617-1356-2-0
SRP: $39.99
Discs/Set: 4
Case Qty: 30
Features:
Episode 0: Intermission (recap/preview episode), textless opening and closing, Japanese commercials, and Nozomi Entertainment trailers.
EMMA: A VICTORIAN ROMANCE 2 © Kaoru Mori • ENTERBRAIN, INC./Emma2 Production Committee
** Product specifications and content may be subject to change.
ABOUT RIGHT STUF, INC
.
Currently celebrating its 25th year in business, Right Stuf, Inc. was one of the first players in the U.S. Japanese Animation ("anime") industry, as both an anime producer/distributor and a retailer. Right Stuf works to promote knowledge of its own products, as well as the anime and manga industry, in general, through its online storefront at RightStuf.com and a variety of media including podcasts and special publications. Its video and print publishing division includes the Nozomi Entertainment, Lucky Penny, and 5 Points Pictures studio-labels.
ABOUT NOZOMI ENTERTAINMENT
A publishing division of Right Stuf, Inc., Nozomi Entertainment is its signature label, dedicated to high-quality releases for collectors. True to the Japanese word that inspired its name, Nozomi's focus is on "what fans want." By focusing on a limited number of anime properties each year, the Nozomi production team ensures each release receives the care and attention to detail it deserves.
From anime classics like Astro Boy, Kimba and Gigantor to modern comedies, dramas and favorites such as The Irresponsible Captain Tylor, His and Her Circumstances, Gravitation, Ninja Nonsense, The Third: The Girl With the Blue Eye, Emma: A Victorian Romance, Maria Watches Over Us, ARIA, Gakuen Alice, Rental Magica, Dirty Pair, Junjo Romantica and Revolutionary Girl Utena, Nozomi Entertainment releases quality programming for fans of all ages and interests.
For more information, visit
www.rightstuf.com
and
www.nozomient.com
.
---
discuss this in the forum (2 posts)
|