Toradora! To Be Released With a Full English Dub And on Blu-Ray in Premium and Standard Edition Formats This July
Santa Ana, CA (March 12, 2014) –
NIS America
is excited to announce that the highly praised hit anime
Toradora!
will be released on July 1 across North America with a full English dub on Blu-ray! Premium and Standard Edition versions will be available simultaneously at online retailers, and both will offer the English dub and Blu-ray discs. The Premium Edition version will include 25 episodes + OVA on a 4 Blu-ray/4 DVD disc set, with a fully illustrated hardcover art book packed with new content/illustrations and a collectible slipcase.
All versions will be available at the following select online retailers:
Right Stuf
,
The Anime Corner Store
,
Anime Pavilion
, and
NIS America Online Store
.
Toradora! Complete Series Premium Edition
About the show:
Ryuji Takasu is cursed with his father's threatening face and is labeled a "delinquent" because of it. Even though this makes it difficult for him to meet people, he is madly in love with Minorin, the one girl who does not flee from him in terror. Taiga Aisaka is a notorious hothead with the nickname "Palm-top Tiger." She also happens to be Minorin's best friend, and what's more, Taiga has a crush on Ryuji's closest friend. This unlikely duo strikes a tenuous agreement to assist one another in stealing the hearts of the ones they love. They will face many hurdles along the way, but perhaps true love is closer to them than they think.
About the extras:
- Hardcover art book (full color, approx. 32 pages) with episode guide, character and relationship info, and gorgeous full color illustrations
- Clean Opening (2), Clean Ending (2), Mini Episodes (4), Bonus Clip, and TV Spots
Japanese Cast
Rie Kugimiya
as Taiga Aisaka
Junji Majima
as Ryuji Takasu
Yui Horie
as
minori
Kushieda
Hirofumi Nojima
as Yusaku Kitamura
Eri Kitamura
as Ami Kawashima
English Cast
Cassandra Lee Morris
as Taiga Aisaka
Erik Scott Kimerer
as Ryuji Takasu
Christine Marie Cabanos
as minori Kushieda
Johnny Yong Bosch
as Yusaku Kitamura
Erika Harlacher
as Ami Kawashima
Production
Screenplay:
Mari Okada
Director:
Tatsuyuki Nagai
Character Design:
Masayoshi Tanaka
Studio:
J.C. Staff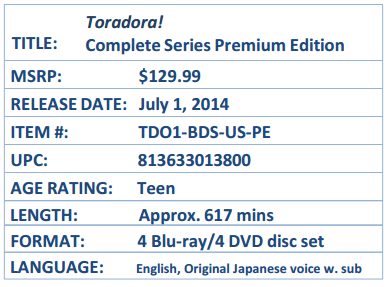 For more information, visit NISAmerica.com/toradora
About NIS America
In 2003, NIS America was established in Southern California to bring exciting, one-of-a-kind Japanese culture to North America. NIS America's team members devote themselves to the fans. Their respect for their fans is at the heart of everything they do. As an established entertainment publisher in the U.S., NIS America is committed to continuous growth and improvement.
NIS America is a subsidiary of
Nippon Ichi Software
, Inc., a Japanese company famous for its unique line of strategy RPGs with titles such as
Disgaea, Phantom Brave
, and
Makai Kingdom
. NIS America has also become a publisher of Japanese anime titles, such as
Toradora!, WAGNARIA!!
, and
Natsume's Book of Friends
.
---