Voltage Inc. Releases After School Affairs Romance App
Voltage's Visual Romance Apps series is ranked #1 in 56 countries, and now it brings you its 31st new app!
After School Affairs
("Kyoushitachi no Himitsu no Houkago")
Available February 19th


Voltage Inc. (Shibuya, Tokyo, CEO: Yuzi Tsutani) released its newest English-language romance app, After School Affairs, for iOS and Android on February 19th, 2016.
This release is an English-language localization version of our Japanese application "Kyoushitachi no Himitsu no Houkago," which is one of our hit titles, and has been a great success in Japan since its release in September, 2015. The story is a secret love story of teachers that takes place in a co-ed high school where romance is forbidden. Keeping the fascinating story and amazing art intact, the entire game has been translated for our English speaking audience to enjoy.
Voltage Inc. will continue to evolve in order to bring its Romance Apps, as well as Japan-made entertainment, to audiences all over the world.
【Story】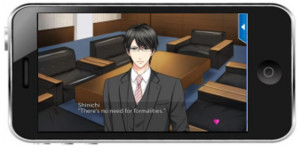 The all-boys' high school you work at merges with the all-girls' school next door, and the teachers you will be working with are all hot?!
There's one condition… both students and teachers are not allowed relationships!
But the more prohibited it is, the more thrilling it becomes…
"
Right now, I'm not a teacher…
"

【Background】
When the bell rings…your secret begins
The all-boys high school you work at suddenly merges with an all-girls high school, and the teachers you end up working with are 5 hot guys!? But, there is only one rule…"Romance is not allowed"!?
You knew you cannot fall in love with him, but the more it's forbidden, the more thrilling it is…
What are you going to do about this secret relationship?
【Characters】
5 hot teachers around you
The Pompous Physics Teacher, The Cool & Composed Math Teacher, The Introverted Japanese History Teacher... When you're alone together after school you can get a glimpse of his true feelings.
"
Just pretend…I'm not a teacher now
."
Enjoy experiencing the thrill of breaking the rules with 5 hot guys!!
【Special Features】
Receive a special reward movie!
If you complete both "The Climatic Ending" and "The Amorous Ending", you will receive a special heart-pounding reward movie!
※ The Teachers' voices are in Japanese
What's a Drama App?
Drama Apps are story-based apps for mobile devices. From romance to suspense, users can be the protagonist of their own stories in a new form of entertainment which is neither a game nor a comic.
* Voltage releases Romance Apps for smart phones. The apps allow users to choose the guy they like best and play through a love story with him. Over 80 titles are currently available for download through the App Store and Google Play.
* Voltage's Romance Apps have been played by more than 40 million worldwide (as of 6/30/2015). This number reflects the total number of people who enjoy Voltage games downloaded from the App Store or Google Play, on Japanese cell phone carrier plans, and on a variety of social gaming platforms.
*Voltage Inc. debuted their English language romance apps to an international audience in 2011, and set up an overseas subsidiary in the U.S.
*Voltage Inc. became one of the top three monthly revenue earning publishers on Google Play (excluding games) in May of 2014.
Release Overview
■Title:After School Affairs
■Pricing:Download Free/In-game purchases of extra content
■ Release date:February 19th, 2016 (Fri)
■Compatible devices:Requires iOS 7.0 or later/Android (OS 4.0 and up)
*Some devices may not support this app.
■ Follow the steps below to access the game from your device
[App Store]⇒[Search]⇒ [After School Affairs]
[Google Play]⇒[Search]⇒ [After School Affairs]
■Copyright:© Voltage, Inc.
---