×
remind me tomorrow
remind me next week
never remind me
Subscribe to the ANN Newsletter • Wake up every Sunday to a curated list of ANN's most interesting posts of the week.
read more
The Mike Toole Show
J-Pop vs. America
by Mike Toole,
Last week, I did something I'd been meaning to do for about sixteen years – I saw The Pillows perform live. The concert, at Boston's Royale nightclub, was part of a tour the storied alt-rock band was undertaking to help promote the new seasons of FLCL, which prominently feature their music. This made for an interesting atmosphere—the entire sold-out crowd (which supplanted a sold-out crowd at the much smaller Sinclair; they moved the show to this bigger venue to meet demand, and it still sold out immediately anyway!) were music lovers, but almost all were there in support of a band they had discovered from watching anime.
In many ways, this tour, which just wrapped up at the San Diego Comic Con, feels like the end (or maybe the beginning?) of a cycle. FLCL's enduring popularity has given rise to a new sequel, a decade and a half after the original. Just as with the original, the new version features music by The Pillows. The cycle is even reflected in the group's opening act; they were supported on the tour by fellow rockers Noodles, who also accompanied The Pillows on their very first trip to the US, to appear at 2005's SXSW festival.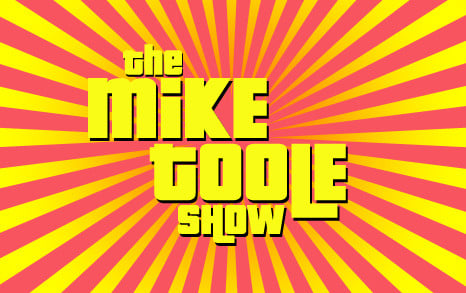 Seeing the band, who still sounded sharp as hell, was exciting, and a tiny bit frustrating—it often is at appearances like this one. One the one hand, it was good to see The Pillows in a venue built for music (I'd had the chance to see them at Anime Boston almost a decade ago, but I passed it up, suspicious of ending up at yet another concert at a convention center ballroom, with its echoey empty spaces and booming, reflective concrete floors and walls). On the other hand, the band stuck to the program, playing only music featured in FLCL. This isn't that bad, really—their FLCL offerings are still assembled piecemeal from earlier hits, so the FLCL soundtrack feels very much like a Pillows best-of retrospective. But limiting their set exclusively to FLCL music means that there's no chance of them dragging out "Kim Deal" from Happy Bivouac, or "Good Morning, Good News" from Smile.

I found myself thinking about this a bit at the show; for The Pillows the FLCL soundtrack was sort of a blip, a moment in time when their career intersected with anime. Fans around the world know them for this reason, but they have 22 studio albums that were mostly created before and after the anime; even the "new stuff" for FLCL Progressive and Alternative mostly comprises of alternative takes of their older hits. Still, one fact remains: The Pillows were able to use FLCL to leverage themselves a sold-out US tour, which is still a far-off dream for most Japanese musical acts.
Back in the 90s and early 2000s, the American music press—publications like Billboard and Spin and Alternative Press—loved to ponder the question of which Japanese pop/rock act would finally break through and have some mainstream success in the west. Would it be Shibuya-kei icons Pizzicato Five? Would it be punk rockers Shonen Knife, or noise-rockers the Boredoms? Or would a more mainstream-friendly act, like Hikaru Utada or Ayumi Hamasaki, finally carve out some real estate on the charts? This 'will a Japanese band make it in the US?' question is still posed, occasionally, because people weren't paying attention when a Japanese musical act made that very breakthrough in 2004. But instead of the Billboard charts, Puffy Amiyumi used the Cartoon Network as their landing zone in North America.

To hear Puffy, the singing duo of Ami Onuki and Yumi Yoshimura tell it, they owe that moment in time to CN producer Sam Register. Puffy had spent the summer of 2002 gutting it out and winning some popularity among US music fans the old fashioned way, by jumping in a tour bus and crisscrossing the continent; that's when I first saw them, and also when Register heard their song "Boogie Woogie no. 5" on KTLA. The producer, who was readying a new Teen Titans cartoon for its debut, liked what he heard, and selected the act to provide the theme song. The pair proved intriguing enough to Register to develop an entire cartoon series around their fictionalized lives, Hi Hi Puffy AmiYumi. This led to more touring, a memorable turn in the 2004 Macy's Thanksgiving Parade ("we didn't know it was a big deal until we arrived and there were like 2 million people there" Yumi later commented), and all of the nonsense that a popular cartoon tie-in brings, like toys and video games and party favors. Puffy never climbed that high on the actual music charts, but for two years, they were on TV several times a week, part of the American pop culture landscape.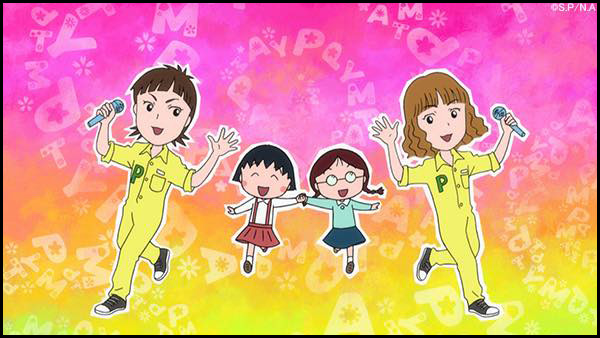 Amusingly, it wasn't until after their Teen Titans debut in the US that Puffy's trajectory intersected with actual Japanese animation; through the rest of the 2000s, they'd provide songs for fare like SD Gundam Force, one of the Pokémon movies, the underrated Oh! Edo Rocket, and a number of Noitamina shows like Hataraki Man and Tale of Genji. These days, Puffy are miraculously still going strong, even as the girls themselves are now moms in their forties. That isn't to say that they're still really popular—the heights of 'Puffy-mania' were reached in Japan in 1998, but Puffy have proven to be incredibly shrewd at managing their waning popularity. They mostly just do the music festival circuit and a few TV spots, but never go more than a few months without a new single, a TV commercial, or some sort of exposure or product. My favorite recent examples: their turn playing themselves in the Chibi Maruko-chan ED, seen above, and a line of boutique grocery store snacks!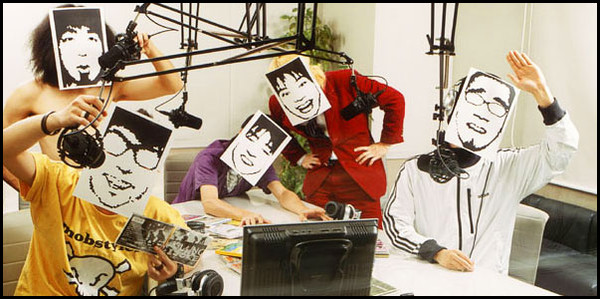 Puffy's first big splash on the American music scene was their 2000 album Spike, but did you know that they got beaten to the punch by another band notable for doing anime music? Anime fans know and love the late, great Beat Crusaders for their contributions to shows like BECK: Mongolian Chop Squad, Bleach, and Hero Tales, but before all of that, they had an album release of their "All You Can Eat" and a west-coast tour in the US, back in 2000. This is remarkable, because it all went down before they'd even established themselves in Japan. I miss these guys – they burned bright for about ten years, with a sound that sometimes replicated the fist-pumping style of 80s rock n' roll, but they weren't built to last. It's interesting to me that the Beat Crusaders hit the US when they did, but never made a major appearance here after their mid-2000s breakthrough. Their big intersectional moment came with "Hit in the USA," a single that was both the OP to Beck and part of their major label debut in Japan. But even before Beck hit US video store shelves, these guys put up the theme song for Nickelodeon's Kappa Mikey!
Even though Puffy Amiyumi and the Beat Crusaders established pop cultural beachheads before The Pillows, The Pillows did the one thing that neither other act could pull off in the US: they sold albums in large quantities. In the mid-2000s, Geneon experimented pretty fearlessly with releasing anime soundtracks, churning out several dozen over the space of a few years. They were almost all total flops. One of the only exceptions was the FLCL soundtrack series, which moved close to a hundred thousand copies just via Suncoast Video, per Geneon Music man Nobuo Yamamoto. In a music industry that was already suffering badly from the advent of filesharing, this was pretty notable. Geneon Music didn't just set up a pipeline for The Pillows' music to reach the American public legally, though—they tried to create their own star, Yoko Ishida. It kind of worked.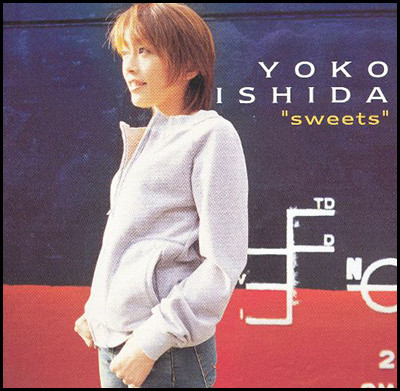 Ishida, at the time, was an interesting figure in Japanese music. She'd broken in by winning a contest, and was at first sort of a one-hit wonder, scoring a brief but major hit with the buoyant "Otome no Policy," one of the Sailor Moon endings, in 1993. She patiently worked the circuit, but couldn't seem to get any purchase in Japan's crowded pop music scene. Things finally changed for her when she signed up with Pioneer LDC in 2000, and did the OP song for Tiny Snow Fairy Sugar, a cover of the Rubettes' "Sugar Baby Love." At the same time, Ishida worked on a series of Eurobeat cover albums from Pioneer, ones that utilized anime songs and latched on to the burgeoning parapara dance scene. In 2003, her solo album "Sweets" was released; just a couple of months later, it came out stateside.
Geneon Music obligingly cross-promoted their parent company's artist at anime conventions, but it was a peculiar balance. Ishida's solo work was light pop-rock fare, nothing like the high-energy parapara stuff. At Anime Central 2003, producer Yamamoto introduced her to anime fans by pointing out that the Japanese parapara scene was dead… and then went ahead and introduced her parapara performance. There was something kind of awesome about the sheer frankness of that; for her part, Ishida put on a great show. Here's a photo of her I took that weekend; she's wearing a sombrero!

From there, it only got weirder, with Ishida mounting a 13-city tour of Media Play and Suncoast Video stores, ostensibly to promote "Sweets." Instead, she stuck to the more high-energy parapara stuff. That was probably a wise choice; I'm sure it was hard enough to get a mall courtyard audience interested in the music to begin with. Check out this absolutely astonishing video of her doing one of these mall performances. Once again, this feels like the end of a cycle; one that began in the 80s with hopeful anime song performers sticking it out at electronics stores and shopping malls in Japan, trying to get noticed. Contrast Ishida's performance with Kumi Miyasato's 1986 mall appearance, to promote Megazone 23. Happily, Ishida's perseverance eventually paid off; her solo work led to more bookings, a radio show gig, and more exposure down the road. Today, she appears around the world, and current fans know her well for her contributions to big favorites like Shirobako and Space Battleship Yamato 2199.
david production's JoJo's Bizarre Adventure established a fun little trend in anime music – the production committee included Warner Bros. Japan, and ostensibly access to their vast library of music. By this relationship, Yes's song "Roundabout" shot back to fame by being used as the first and second season ending song, and remains a viral hit to this day. The franchise would give similar exposure to the likes of the Bangles, Pat Metheny, and Savage Garden, whose lead singer Darren Hayes tweeted his support for the Jojo's franchise. Each of these intersections might use old songs, but through this approach, new fans are discovering the artists. But this little trend is just an echo of one from back in the 2000s, when a slew of anime used popular western songs as openings or endings. What did this give us? Lots of licensing headaches, is what!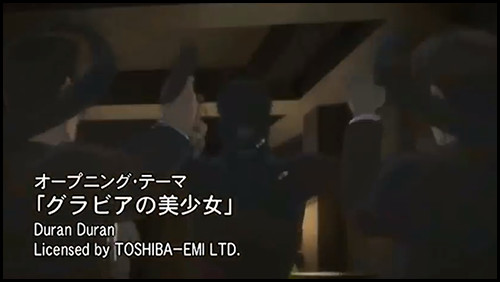 It started with "Girls on Film" Duran Duran's 1981 megahit that Gonzo used for their series Speed Grapher. This is perhaps the single most apt marriage of unrelated pop song to series ever, so of course licensing problems made it impossible to officially showcase outside of Japan. Gonzo knew damn well this would be a problem, too, because they had an "international version" of the OP with an instrumental track all ready to go. Geneon were able to get the paperwork done to include Radiohead's "Paranoid Android" and Franz Ferdinand's "Do You Want To" in their North American releases of Ergo Proxy and Paradise Kiss; on the other hand, Funimation discovered that licensing Oasis's "Falling Down" to preserve it for their home video release of Eden of the East was going to be prohibitively expensive, so they pulled a fun little trick; while most episodes open with the international version of the OP, the first episode uses the Oasis tune. Thus, the music licensing fee was small enough to make it work.
I'll close this piece by dialing the time machine all the way back to Otakon 2000. There was a concert at this convention, in a time when musical performances mostly meant brave anime singers performing to tape recordings, with minimal lighting or stage effects. But this time, the concert revved up right after opening ceremonies, and it featured a full band—Boa, from England. Their song "Duvet" anchored the OP to Serial Experiments Lain, which was all the rage at the time. Once again, this single moment, this brief crossing of anime and music, helped establish a young progressive rock band, and get them some key gigs overseas. Boa never quite eclipsed the success of "Duvet," but the band is still going, and they still pay tribute to the song that made them and the anime fans that love them for it.
For a lot of these bands, intersecting with anime is just one brief beat in their career. But for anime fans, that one intersection is a defining moment, and draws them in for life. Who's your favorite artist, Japanese or not, that you discovered through anime? Is it The Pillows, or one of the other bands I went into here? Or is it perhaps Ally Kerr, or Maximum The Hormone, or Unicorn? Tell us your favorite in the comments!
---
discuss this in the forum (31 posts)
|