Please Teacher! (TV)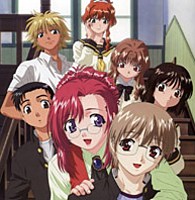 Alternative title:
Onegai Teacher (Japanese)
Onetei (Japanese)
Upragniona nauczycielka (Polish)
おねがい☆ティーチャー (Japanese)
おねてい (Japanese)
星空的邂逅 (Chinese (Taiwan))
Objectionable content:
Significant
Plot Summary:
Kusanagi Kei, a high-school student living with his aunt and uncle, has an encounter with a female alien. This alien is revealed to be a new teacher at his school. Later, he is forced to marry this alien to preserve her secrets. From there, various romantically-inclined problems crop up repeatedly.
User Ratings:
3264 ratings have been given [details]
Running time:
22 minutes per episode
Vintage:
2001-12-05
2002-01-10 to 2002-03-28
Opening Theme:
"Shooting Star" By KOTOKO
Ending Theme:
"Sora no Mori De" By Kawada Mami
#1: "Sora no Mori De" By Mami Kawada (eps 1-11)
#2: "Love a Riddle" by KOTOKO (ep 12)
Comment:
Twelve episodes of this series were broadcast on WOWOW. A 13th episode was released as an
OAV
, and is bundled with volume 4 of the Region 1 DVD release.
Press Release:
You can contribute information to this page, but first you must login or register
This encyclopedia is collaboratively edited by the users of this site
# A B C D E F G H I J K L M N O P Q R S T U V W X Y Z
Anime anthology