×
remind me tomorrow
remind me next week
never remind me
Subscribe to the ANN Newsletter • Wake up every Sunday to a curated list of ANN's most interesting posts of the week.
read more
Anime Spotlight - Love Live! Sunshine!! (2nd Season)
by ANN Staff,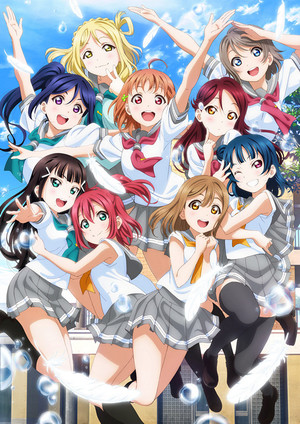 Premiere Date: October 7, 2017

Key Staff
Director: Kazuo Sakai

("Mushi-Uta" as director, "Mobile Suit Gundam AGE"as episode director)

Series Composition: Jukki Hanada

("Beyond the Boundary", "Campione!", "KanColle", "Nichijou - My Ordinary Life", "Steins;Gate")













Catch Copy & Story
We want to shine!
Uranohoshi Girls' High School, a private school in the seaside neighborhood of Uchiura at Numazu city, Shizuoka prefecture.
A small high school in a corner of Suruga Bay, it is home to nine teens,
led by second-year student Chika Takami, driven by one seriously big dream:
To become the next generation of bright, sparkling "school idols"!
As long as we don't give up, any dream can come true...
All we have to do now is keep pushing hard for fame and glory!
Now their "School Idol Project" begins to make their dreams come true!
Members
Chika Takami (Voice: Anju Inami)

The second-year student at Uranohoshi Girls' High School who launched Aqours. The youngest of three sisters, she comes from a ryokan-owning family and is proud of their open-air, ocean-view bath. Sociable and rarely gives in easily. Her positive, can-do attitude gradually begins to affect everyone around her.

Riko Sakurauchi (Voice: Rikako Aida)

A second-year student who joined Chika's class after moving from Akihabara, Tokyo. Reserved, modest, and likes indoor activities. She may look calm and mature, but she often flies into a panic, jumping to conclusions and making mistakes.

Kanan Matsuura (Voice: Nanaka Suwa)

A third-year student living alone with her grandfather, who runs a diving shop on a nearby island. Breezily mature, she rarely sweats the details and usually maintains a calm, cool demeanor.

Dia Kurosawa (Voice: Arisa Komiya)

A third-year student who leads the student council. From an old fishing family whose name is well-known around the area. Prideful and perfectionistic in her ways, she can't abide it when things are done sloppily or incorrectly.

You Watanabe (Voice: Shuka Saitō)

A second-year classmate of Chika's. Good enough at the high dive to qualify for the national team. Weight training is her hobby, and she tends to take action without thinking matters over first. Her father captains a ferry, and she'd like to have his job someday.

Yoshiko Tsushima (Voice: Aika Kobayashi)

A first-year student who likes the "little devil" look and proclaims herself to be "Yohane, the fallen angel". Born in the urban side of Numazu city, she's bright, self-assured, smart, and thoughtful. She's also cursed by extreme bad luck, running into all kinds of unforeseen trouble wherever she goes.

Hanamaru Kunikida (Voice: Kanako Takatsuki)

A first-year student, the daughter of a family who's run a nearby temple for generations. A fan of reading, she has a deep fondness for Japanese literature. She's also a gifted singer, earning her a spot in a choir. Gentle and caring for those around her, but often finds herself going in circles anyway.

Mari Ohara (Voice: Aina Suzuki)

A third-year student. Her mother is Japanese, while her father is Italian-American and manages a hotel chain. Cheerful in personality, she often prefers to work by herself. Always keeps her chin up when faced with hardship and ready to try her hand at anything.

Ruby Kurosawa (Voice: Ai Furihata)

A first-year student who's almost always nearby her good friend Hanamaru. Fearful and tends to cry a lot, but still has a tough interior, forged by her role as a girl in a rich, well-known family. Always looked up to pop idols. Needlework is the only thing she's really great at.
Cast
Chika Takami

Anju Inami

Riko Sakurauchi

Rikako Aida

Kanan Matsuura

Nanaka Suwa

Dia Kurosawa

Arisa Komiya

You Watanabe

Shuka Saitō

Yoshiko Tsushima

Aika Kobayashi

Hanamaru Kunikida

Kanako Takatsuki

Mari Ohara

Aina Suzuki

Ruby Kurosawa

Ai Furihata
Staff
Original Story:

Hajime Yatate

Original Plan:

Sakurako Kimino

Director:

Kazuo Sakai

Series Organization:

Jukki Hanada

Character Designer:

Yūhei Murota

Main Animators:

Tomoyuki Fujii
Madoka Hirayama
Keiichi Sano

Design Works:

Maki Kawake

Set Design:

Takeshi Takahashi

Art Directors:

Yoko Kouyama
Kurumi Suzuki

Color Planning:

Sayoko Yokoyama

CG Director:

Gō Kurosaki

Director of Photography:

Daiki Sugiyama

Editor:

Daisuke Imai

Sound Director:

Yukio Nagasaki

Music:

Tatsuya Kato

Music Production:

Lantis

Animation Production:

SUNRISE Inc.
Presented by:

2017 PROJECT Lovelive! Sunshine!!
SUNRISE Inc.
BANDAI VISUAL CO., LTD.
Lantis Co., Ltd.
Bushiroad Inc.




© 2017 PROJECT Lovelive! Sunshine!!
---