×
remind me tomorrow
remind me next week
never remind me
Subscribe to the ANN Newsletter • Wake up every Sunday to a curated list of ANN's most interesting posts of the week.
read more
Anime Spotlight - My Girlfriend is Shobitch
by ANN Staff,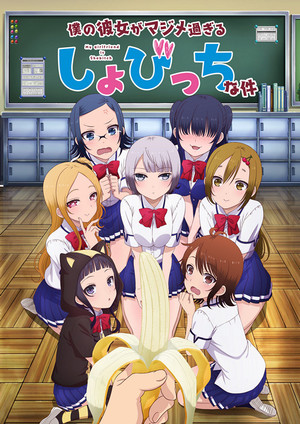 Premiere Date: October 11, 2017
Streaming available at: Amazon Anime Strike


Key Staff
Director: Nobuyoshi Nagayama

(Hinako Note (TV) : Episode Director (eps 7, 11))

Series Composition: Hideki Shirane














Story
This is the tale of a normal boy who attended school normally, mixed into his class normally, fell in love normally, mustered up his courage, and confessed his feelings... High school student Haruka Shinozaki enjoyed living such a respectable life. However, the girl he fell in love with wasn't so normal... After all, her mouth is always gushing out racy sex knowledge! However, all she does is so she is able to become a proper lover for Haruka...
This is a tale of confused pure love!
Character Names & Descriptions & Seiyuu
Akiho Kosaka

Voice: Aoi Yūki

The heroine of this story. This beauty has a brilliant mind, a knack for sports, and a mysterious vibe. She is constantly doing research on the inner workings of the relationship between men and women in order to be a suitable girlfriend for Haruka Shinozaki. She is well-versed in a number of (sexual) interests and preferences, and her desire for (sexual) knowledge knows no bounds. Although she appears to be one versed in the ways of sex, she has no experience herself.

Haruka Shinozaki

Voice: Mitsuhiro Ichiki

A second-year in high school and the protagonist of this story. He's just a normal high school student, walking around in a normal high school uniform... However, he has a natural tendency to make jabs at comments by others due to the many people with one or two quirks that surround him. He's generally an all-around "good guy," and has an average level of interest for a boy his age when it comes to sexual knowledge and the act of sex itself. However, his feelings for Akiho are ten times stronger than anyone else's... Probably.

Shizuku Ariyama

Voice: Rarisa Tago Takeda

A third-year in high school and Haruka's childhood friend. She and Haruka get along like siblings, and she won't hesitate to use various forms of communication (a.k.a. sexual harassment) when she appears in front of him. However, she is very weak when it comes to being confronted, and will lose all will to fight when she is faced with a sudden, unexpected retort. Her flat chest is a touchy subject for her, and she feels great pain in her heart when she looks at the other girls with more bountiful bosoms around her.

Rina Saijo

Voice: Natsumi Yamada

A second-year in high school who is Haruka's classmate. She's a gorgeous girl who just transferred in from a "Super High-Class Lady School" that only the richest ladies can attend. Because of her sheltered school life, Rina is naive when it comes to society and men. She has a bit... no, a really odd personality, and she often throws those around her (especially Haruka) off with her airheaded comments. She once had a relationship with a friend at her last school that crossed the line of "just friends"... Or so the rumors say, but there's no way to know if this is true.

Kanata Shinozaki

Voice: Yuki Yagi

A first-year in high school and Haruka's younger sister. She loves her brother to an abnormal amount--in fact, she's crazy about him. Her mannerisms are so childish that one wouldn't think that she's really a high school student, and her sex knowledge is on the same level as an elementary schooler. Her tendency to jump into the other students' "racy" conversations with an all-knowing smirk on her face always causes her brother problems. She is good friends with her classmate Misaki Aikawa, and calls her by the weird nickname "Sakiccho."

Saori Igarashi

Voice: Juri Nagatsuma

A second-year in high school who is Haruka's classmate and the class representative for Class 5. Her serious and aloof personality fits the profile of a class representative perfectly. She's very strict when it comes to matters of sex, and is determined to protect the good moral standing of the school and its students. However, because she's surprisingly eas- ...Nice, she often is played around with like a toy by the other members of the student committee.

Sayo Shizumori

Voice: Miki Hase

A second-year in high school and the class representative of Class 4. This girl who hides her eyes with her bangs gives off the vibe of an introvert. Though her manner of speech is fairly nerdy and nervous, when it comes to matters of sex, she's surprisingly agressive. Not able to be satisified with mere knowledge, she actively stakes out places where something "racy" might be happening in order to observe. She gets along well with Saori, and she often teaches her tidbits from her abundance of indecent knowledge.

Misaki Aikawa

Voice: Marin Mizutani

A first-year in high school and Kanata's classmate. A first-rate beauty with a polished look and a kind personality. She often hangs around with her friend Kanata, but unlike her, Misaki has knowledge about sex appropriate for her age. Because she's a bit too nice, she often finds herself desperately trying to cover for Kanata when she unwittingly says something racy. Unfortunately, this poor girl ends up embarrassing herself instead as a result.
Cast
Akiho Kosaka

Aoi Yūki

Haruka Shinozaki

Mitsuhiro Ichiki

Shizuku Ariyama

Rarisa Tago Takeda

Rina Saijo

Natsumi Yamada

Kanata Shinozaki

Yuki Yagi

Saori Igarashi

Juri Nagatsuma

Sayo Shizumori

Miki Hase

Misaki Aikawa

Marina Mizutani
Staff
Original Creator:

Namiru Matsumoto (serialized in KADOKAWA's Comic Newtype magazine)

Director:

Nobuyoshi Nagayama

Series Composition:

Hideaki Shirane

Character Design:

Sound Director:

Sound Production:

Music:

Shunsuke Takizawa (TRYTONELABO)

Music Production:

Opening Theme Song:

"Eien Labyrinth" (Eternal Labyrinth) by Aoi Yūki

Ending Theme Song:

"Koi no Himitsu" (The Secret of Love) by pua:re

Animation Production:

Production:

Too much serious Partners




©2017 Namiru Matsumoto/KADOKAWA/Too much serious Partners
---
discuss this in the forum (4 posts)
|