×
remind me tomorrow
remind me next week
never remind me
Subscribe to the ANN Newsletter • Wake up every Sunday to a curated list of ANN's most interesting posts of the week.
read more
Anime Spotlight - KONOSUBA - God's blessing on this wonderful world! 2
by ANN Staff,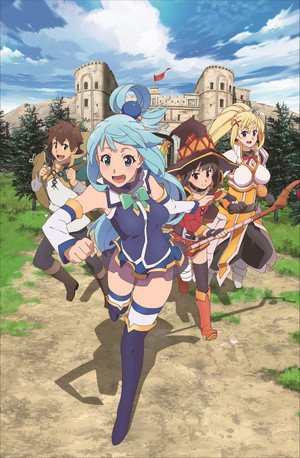 On air starting January 12, 2017

Key Staff
Director: Takaomi Kanasaki

Series Composition: Makoto Uezu

(Arpeggio of Blue Steel, Is This a Zombie?)











Introduction
What a life in another world really needs is a big, great adventure... Wait, no it doesn't!
The definitive otherworldly comedy returns!
The anime adaptation of the Konosuba novels that have over two million copies in print returns with Takaomi Kanasaki as director, Makoto Uezu in charge of series composition, and production by Studio DEEN!
Story
Kazuma Sato -- a game-loving shut-in who was reincarnated in a different world due to an unforeseen accident -- is determined to become a hero and live the life of an adventurer in an RPG-like world.
However, he continues to live a humble existence in this other world, his dream of glory never quite coming true.
Aqua, a goddess who was thrown in as a bonus during his reincarnation process.
Megumin, an archwizard who can only cast one spell a day.
Darkness, a crusader whose attacks never connect.
Along with his party of three warriors -- who, despite their great powers, fail to live up to their potential -- Kazuma somehow keeps completing quests.
One day, however, a servant of the King came to Kazuma and his friends, who had saved the town from the Mobile Fortress Destroyer. His message?
"Adventurer Kazuma Sato. You are currently under suspicion of subversion of the state!"
...Which way is Kazuma's life as an adventurer in another world going!?
Characters
Job: Adventurer (basic class)

Used to be a shut-in that loved games, but was reincarnated into another world. An average adventurer that has no traits other than having an extremely high luck status. As of late, he's started to think that defeating the evil overlord might be impossible.

Job: Archpriest (advanced class)
Likes: Delicious food, strangely-shaped rocks
Special talent: Party stunts

The goddess that sent Kazuma into another world. She also gets roped into the other world while she's at it. In order to return to her original world, she must defeat the evil overlord. She's the party's healer.

Job: Archwizard (advanced class)
Likes: Explosive magic
Special talent: Explosive magic
Hobby: Explosive magic

Genius mage with extraordinary powers, even among the crimson demons said to have high magical powers. She uses "explosive magic," the highest class of blast spells. She's a member of the party in charge of offensive magic.

Job: Crusader (advanced class)
Likes: Cute things
Special talent: Fantasizing

A female knight who -- despite her cool and beautiful appearance -- has a habit of jumping into a group of enemies without thinking. Her attacks don't connect because of her clumsiness, but she's good at being a meat shield. Within the party, she is in charge of defense.

The guild receptionist. She's big-sister figure that explains a variety of things to adventurers visiting the town of Axel.

Job: Secret

A guy that always welcomes adventurers who drop by the guild.

Job: Magic Item Shopkeep and Archwizard (advanced class)

The shopkeep of a magic item store in the town of Axel. Pacifist. She has the will to work more than anyone, but has zero business skills. However, in reality, she is...

Job: Archwizard (advanced class)

A Crimson Demon girl who views Megumin as her rival. Although she is very powerful, her one worry is that because she has common sense, she stands out amongst the Crimson Demon race, which is filled with weirdos.

Job: Thief

A friend of Darkness. She taught Kazuma a thief skill when he had just started on his adventure.

Job: Swordmaster (advanced class)

A handsome adventurer with a high sense of justice that wields the magic sword Gram.

A royal inspector who was dispatched from the kingdom's capital to the town of Axel.

A masked demon who loves the negative emotions that humans emit. He has the power to "see without obstruction."
Cast
Kazuma

Jun Fukushima

Aqua

Sora Amamiya

Megumin

Rie Takahashi

Darkness

Ai Kayano

Luna

Sayuri Hara

Ruffian

Tetsu Inada

Wiz

Yui Horie

Yun Yun

Aki Toyosaki

Chris

Ayaka Suwa

Mitsurugi

Takuya Eguchi

Sena

Hitomi Nabatame

Vanir

Masakazu Nishida
Staff
Original Story

Natsume Akatsuki (published by Kadokawa Sneaker Bunko, KADOKAWA)

Original Story Illustrations

Director

Takaomi Kanasaki

Series Composition

Makoto Uezu

Character Design

Kouichi Kikuta

Art Director

Color Coordinator

Director of Photography

Editing

Sound Director

Sound Effects

Recording

Sound Production

Music

Masato Coda

Music Production

Animation Production

Studio DEEN

Produced by

KONOSUBA 2 Partners

Theme Songs

Opening Theme:
"TOMORROW" by Machico
Ending Theme:
"Ouchi ni Kaeritai" (I Want to Go Home) by
Aqua (voiced by Sora Amamiya), Megumin (Rie Takahashi), Darkness (Ai Kayano)




©2017 N • K/K/K2P
---
discuss this in the forum (2 posts)
|
this article has been modified since it was originally posted; see change history