Angel Sanctuary (eBook 3 of 20)
---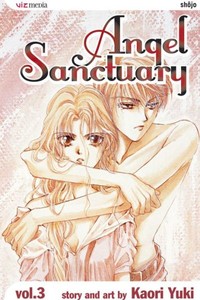 Title:
Angel Sanctuary
Volume:
eBook 3 / 20
Running time:
207
Distributor:
Viz Media
Release date: 2013-03-26
Suggested retail price: $4.99

ISBN-13: 9781421562070 9781421562070

Description:

Heaven-Sent Terror

Despite Setsuna's efforts to deny his love for his sister, he can't allow her to leave the country without letting her know how he feels, but how can she feel about love that borders on incest? She may never live to find out, because an angel has been sent down from heaven just for her--just to make sure that she dies! The two demons from hell, Kurai and Arachne, are still trying to bring out the avenging angel in Setsuna, but first they must deal with the mysterious, seemingly immortal Kira. Even if a way is found to bring the angel Alexiel out of Setsuna, can Tokyo survive the transformation?
(added on 2013-03-22, modified on 2013-03-22)

RightStuf - Anime, Manga and More
An old-timer invades Vice's usual anime night and now he wants to watch what on a what?
―
With its unique political intrigue and female protagonist, Violet Knight continues to be one of the darkest and more interesting isekai series. Rebecca Silverman digs in to this unique light novel series.
― The second novel in Yohna's isekai fantasy series The Violet Knight appears to have gotten to the story where the author wants it – fully moving towards the consequences of heroine Yuki's father h...
How come other cable networks never bet on anime programming the way Cartoon Network did? Justin digs in.
― Jake asked: One thing I always found strange looking back at the anime boom was the lack of anime on Nickelodeon. At the time Nickelodeon was the second largest children to young adult network after Cartoon Network, which was in full swing with Toonami and later Adult Swim programming block. A...
James shotguns all 49 episodes of Kyoto Animation's beloved visual novel adaptation, while Paul breaks down all this week's new anime releases!
― My daily streaming review shows this season are A Place Further Than the Universe and Laid-Back Camp, which would normally give me a monopoly on all the comfy slice of life stuff. This ain't no ordinary season, though, and there are more shows in that genr...
Sailor Moon Crystal Part III is an improvement over the previous seasons with the addition of Sailors Uranus and Neptune. Rebecca Silverman has the details.
― The third season of Sailor Moon Crystal brings a few changes to the table even as it embarks on the difficult task of retelling a fan-favorite storyline from the classic series. Among the most noticeable shifts is the art – falling somewhere be...
Mike goes on a treasure hunt for short-form anime and uncovers a show about a sentient fart, which means the hunt was an enormous success.
― It's January, which means that I just killed the mid-month holiday weekend off at Arisia, Boston's largest science fiction and fantasy convention. This year, not only did I sit on panels on the furious Evangelion debate, fanservice, and other anime-related topic...
Whether you're already a fan of the anime version or not, Made in Abyss' manga is a journey worth undertaking. Rebecca Silverman dives into this fantasy manga's dark and fascinating world.
― At this point, the anime adaptation of Akihito Tsukushi's fantasy manga is better known to English-speakers, since its release predates that of the source manga. For the curious, this first volume covers the anim...
Watching anime doesn't have to be purely a shut-in pursuit! Here are six titles that encourage you to explore the wonders of the natural world.
― One of my favorite anime airing this season is Laid-Back Camp, a story that looks like another "cute girls doing cute things" anime on the surface but ended up delivering more for me. That's not to say that it doesn't star cute girls who mostly hang out do...
This manga spinoff of the surprise hit franchise brings some great art to the table but falls short on story. Rebecca Silverman has the details.
― The surprise hit anime of last year, Kemono Friends, is only one portion of a multimedia franchise – there are games, apps, and a variety of other bits and bobs to accompany the anime. Fly's two-volume manga Welcome to Japari Park, collected into a single ...
The Eureka Seven art contest has been extended, and we're adding new prizes!
― The Eureka Seven Hi-Evolution film series lands in theaters later this year. The original staff, chief director Tomoki Kyoda, screenplay writer Dai Sato, and character designer Kenichi Yoshida, have all returned. Other staff members from the past series, including character animation director Ayumi Kurashima, Shigeru Fujit...
Zac, Jacob and special guest Gabriella Ekens fiendishly devour as many of the 2018 winter premieres as they can, plus Godzilla: Planet of the Monsters!
― ANNCast Episode 317 - Winter 2018 Anime Roundup Zac, Jacob and special guest Gabriella Ekens fiendishly devour as many of the 2018 winter premieres as they can, plus Godzilla: Planet of the Monsters! You can listen to the show on our player here, d...
Older anime like Evangelion frequently have strange "jumps" in between edits - why is that, and what can be done about it? Justin goes in deep!
― K.o.R asked: Why, on a lot of older anime series, does the picture appear to jerk sideways whenever there is a cut? It's noticeable on things like the original release of Evangelion, for example. In the years before anime went all-digital, TV shows were ed...
To celebrate the release of the live action GINTAMA film, we are giving away awesome prize packs including exclusive merchandise only available in Japan!
― To celebrate the release of this laugh-out-loud Sci-Fi Samurai Comedy, we are giving away two awesome GINTAMA prize packs including exclusive merchandise only available in Japan! Get ready to laugh your brains out with the Yorozuya Crew! The inter...