×
remind me tomorrow
remind me next week
never remind me
Subscribe to the ANN Newsletter • Wake up every Sunday to a curated list of ANN's most interesting posts of the week.
read more
Spring 2017 Manga Guide: Light Novel Roundup
by Rebecca Silverman,

Light novels, which are roughly equivalent to young adult fiction in the west, are increasingly being used as the basis for both manga and anime series. Luckily for us, there's been an interest in translating and publishing them for English-speaking audiences. That's good news for both those who want to see the original form of a story and for bibliophiles, and each month brings both new and continuing series so that we've got a respectable catalogue of titles.

Despite the increase in their publication, fewer light novels come out each month than manga volumes, and they also take longer to read. That means that we'll be covering them a bit differently: just one preview for each of the new series. We can't neglect the fact that there are some very interesting continuing volumes as well, so do bear in mind that the final volume of Spice and Wolf comes out in June, along with the first book to go beyond what was adapted into anime for Overlord. (It has a pretty promising title as well – "The Lizardman Heroes.") Likewise new volumes of The Rising of the Shield Hero and Sword Oratoria are due in June, as well as the next installment of NisiOisin's monogatari franchise. Sadly even I can't read quite that many books and have time to write them up, so here are the new series starting in the months of April, May, and June.

April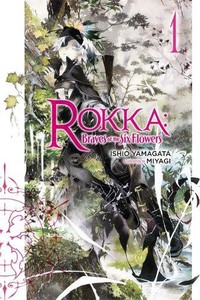 Rokka: Braves of the Six Flowers volume 1 by Ishio Yamagata, YenOn $14.00
This mystery/fantasy hybrid is making its debut after its anime adaptation, so the major plot twist may already be known to potential readers. Even if you are aware of it, however, this is still worth reading, if only for the characterization of Adlet and the fact that it is devoid of game-jargon. A straight fantasy novel rather than an isekai story, the plot follows a group of seven people claiming to each be a chosen "Brave," a special warrior who will drive back evil and protect the kingdom. Since no one is willing to admit to being the fake, this turns all of the Braves against each other, and while they're all suspicious of point-of-view character Adlet, we as readers know that he's not the fake. The result is a solid mix of both genres, with the main gripe being that it really is pretty difficult to solve the actual mystery on a first read-through. (So it's not a cozy, basically.) The art, unfortunately, really doesn't fit with the tone of the writing and the end of the book throws in a wrench that kind of makes you feel like Ishio Yamagata wasn't initially planning to make this a series and needed to give the story a reason to continue. But on the whole this is a good book and just different enough from the other light novel fantasies on the market to merit reading.
May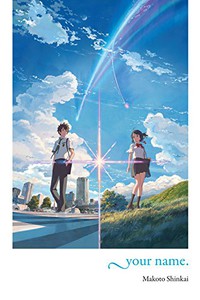 your name. by Makoto Shinkai, YenOn $20.00
I haven't seen the film yet, but Makoto Shinkai wrote both movie and novel almost concurrently and it was only the differences in publishing a book and releasing a film that gave one any precedence over the other. Although I feel like there are aspects of this story that would work better in an audio/visual medium – specifically point-of-view issues – there's no denying that this is a beautiful story regardless. The story follows Taki and Mitsuha, two high school students who one day suddenly swap lives and bodies, living as each other for random days. Although neither can quite figure out each others' lives, they do become fond enough of each other that when the switches suddenly stop, Taki grows hysterical. As he tries desperately to find the girl he's realizing he's come to love, he makes a terrible discovery that makes reuniting seem impossible. But really, "impossible" is just another word, and Shinkai's story explores just how lives are tied together across space, time, and hearts. It's both beautiful and teary, and it feels a little bit like reading a dream. It's definitely a dream worth having, and the hardcover format may make the book pricier, but this is the kind of story that deserves a good edition. My only real complaint is that it can be hard to tell whose voice we're reading, both because of font choices and the fact that Shinkai is a better mood-setter than character creator. Fortunately the story is good enough that after a while it doesn't matter if it's Taki's voice or Mitsuha's – because after all, aren't they both reaching for the same future?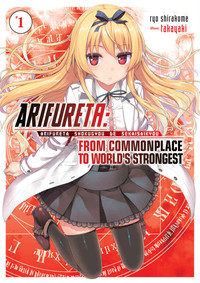 Arifureta - From Commonplace to World's Strongest volume 1 by Ryo Shirakome, J-Novel Club, $6.99
J-Novel Club has become the leading purveyor of isekai light novels, and this is one I particularly liked. It isn't especially clever or edgy, but it does take the time to point out that the heroes who show up with all of their amazing superpowers don't actually have anything but their amazing superpowers going for them. In the first volume of Ryo Shirakome's series, Hajime Nagumo and his entire high school class are transported to another world to be heroes in a war against other races, and all but Hajime are instantly gifted with special abilities and ridiculous strength. Hajime, on the other hand, is totally average, and as such the bullying he endured on Earth simply continues, only now his tormenters have the power to, say, push him off a cliff with a well-placed fireball. Left for dead and only really mourned by Kaori, the popular girl whose affections unwittingly got him bullied in the first place, Hajime has to struggle to survive in the depths of a deadly dungeon. In other words, Hajime has to learn how to become superpowered and how to become a hero all on his own. It's a good twist on the genre conventions and really points out (through the parallel character of the class prince) that just having the powers isn't enough to make you a real warrior, much less hero. It has some issues in the main romantic relationship and the translation isn't quite up to J-Novel Club's usual standard, but if you like The Rising of the Shield Hero, you should check this one out.

Bluesteel Blasphemer volume 1 by Ichirou Sakaki, J-Novel Club, $6.99
You may recognize the name of the author of this book – he previously wrote Scrapped Princess and Chaika the Coffin Princess, both of which had at least anime and manga adaptations published in English. (And a few novels in the case of the former.) You may also be able to figure it out by the fact that this book once again features a pair of not-quite-siblings who have a questionable relationship, which really seems to be something of an obsession with Sakaki. Regardless, this book's biggest issue is that it's not hugely different from any other isekai novel – high school age boy gets brought/reborn in new world, has powers, girls try to get him to sleep with them. In this case it's Yukinari, and he is reborn in an artificial body after he and his older sister die in a housefire. After a brief timeskip, Yukinari and his new younger "sister" Dasa are traveling the countryside, on the run from a mysterious entity, when they stumble upon a girl named Berta being sacrificed to a local erdgod, which sounds like the giant animals from Princess Mononoke. Not knowing that they're interrupting an important local ritual, Yukinari and Dasa kill the erdgod, leaving the village unprotected. This forces Yukinari, who has brought his know-how about firearms with him to his new world and put it to good use, to fill in for the deity. Along the way we learn about a very oppressive (and totally not Medieval Christian) religion that is enslaving people in the name of conversion. Needless to say, they're no fans of Yukinari and conflict ensues. When this is the focus of the story, or Yukinari's own uncertainties are, the book is strong and the world-building interesting. The problem arises when Sakaki tries too hard to adhere to genre conventions, such as Berta's unhealthy fixation on Yukinari (and "servicing" him), which teen deputy mayor Fiona also gets in on. It isn't that Sakaki can't write these scenes, but more that they read like virtually any other similar novel rather than something specific to this book, and that drags things down. Other than that, however, this is still enjoyable. If you're already a fan of the author, you've probably already decided to read this, but if you aren't, this really looks like it's going to develop into something interesting.
June

Grimgar of Fantasy and Ash: Whisper, Chant, Prayer, Awaken by Ao Jūmonji, Seven Seas, $13.99
This volume was previously released as an ebook by J-Novel Club, and Seven Seas' paperback edition is simply giving us a physical copy. If you're not an ebook reader, however, this is worth picking up. Covering roughly half of the animated material (although this does precede the anime), Grimgar's first volume is a much darker, more serious variant of the isekai genre, dealing with the actual consequences of life and death. That said, the death of a major character about halfway through the book is not handled with the same heaviness that its anime adaptation uses – the characters are sad, yes, but there's no prolonged period of mourning. Although that doesn't give us some of the character development – particularly for Yume – it does say a lot about how disposable people are in the story's world, a huge difference for most of the transported characters. This is still about as far from light-hearted fantasy as you can get, so if you're looking for humor or a light romp, look pretty much anywhere else. But alongside The Faraway Paladin, this is also one of the more interesting light novels to come out this year in the way it handles life and death.
Invaders of the Rokujouma!?Volume one by Takehaya, J-Novel Club, free
As of this writing, the first three volumes of this comedy series are available for free streaming on J-Novel Club's website, though in the interest of time, I'll only be covering the first book. Adapted to anime in 2014 and still available streaming on Crunchyroll, Invaders of the Rokujouma!? follows the misadventures of high school first year Satomi Kotarou and his attempt to live on his own. It seems perfect at first – he's found a room for the unheard-of low price of ¥5,000 a month, enabling him to let his dad follow his job without worrying about his son. But you know what they say – if it looks too good to be true, it probably is, and before long Kotarou learns that the rent is so cheap because the room is haunted by the ghost of a young girl. Oh, and that a magical girl claims that it's the center of an impending evil magical girl attack. And that a girl from a race of people who moved underground centuries ago needs the room to facilitate the invasion of her people. And that the room has been chosen by alien technology for an alien princess to use it for conquering practice. No big deal. By the end of this introductory volume, no fewer than five young women (plus two animated Haniwa figures) have moved into Kotarou's tiny apartment to try to use it for their own purposes, although by the time the aliens show up, ghost-girl Sanae is perfectly willing to let Kotarou live there with her if they can get rid of everyone else. It's a comedy of escalating proportions, and it mostly works. (Especially when everyone learns that you do not piss off the landlady!) Where things suffer a bit is when Takehaya, whose first comedy work this is, relies on tired tropes to carry scenes, such as the seemingly endless boob jokes, which are so rote that it feels like he just cut and pasted them from another source. When all of the girls transfer to his high school class at the very end of the novel, it's kind of groan-worthy, because Takehaya shows enough inventiveness in other places (such as the underground people's culture or everyone's refusal to believe in magical girls when they're okay with literally everything else) that it just feels canned. Despite that, this is light and fun enough to merit checking out, whether or not you watched the anime. It's the equivalent of beach reading  - good enough to finish and enjoyable enough to like, but it won't make you think all that hard.
Also Arriving on Shelves
Despite my best efforts, I couldn't read every new or significant release debuting during this time frame, so here's what else you ought to keep an eye out for:
The Seven Deadly Sins: The Scars They Left Behind by Shuka Matsuda, Vertical $10.95. June.
This companion novel to the manga series is about Elizabeth's oldest sister Margaret and her lover, Gilthunder, and what happened back in the castle while Elizabeth was finding the Sins. If you're a fan of the franchise, or just of The Margaret/Gilthunder relationship, this is something to check out. Vertical's edition is pretty great too; the volume is published as a small hardcover with illustrations by the original mangaka.
The Disappearance of Hatsune Miku by Muya Agami and [email protected], Seven Seas $14.99. June.
I suspect that this will appeal strictly to Vocaloid fans, but the premise, that a young man comes to see Miku as more than just a program as they search for lost songs, sounds cute. It is the only licensed Hatsune Miku novel, so that alone may make it worth checking out.
Magical Girl Raising Project by Asari Endō, YenOn $14. June.
The source material for the anime series. While I haven't read it yet, this combination of magical girl story and death match should prove interesting, especially for franchise fans.
Sound! Euphonium: Welcome to the Kitauji High School Concert Band by Ayano Takeda, YenOn $14. June.
Even though this is the source material for the popular anime, it may feel strange to have the story without actual music. Nevertheless, book format should allow for more character details, so fans will want to check this out.
If It's for My Daughter, I'd Even Defeat a Demon Lord by CHIROLU, J-Novel Club $6.99. June.
I'd be lying if I said that this combination dungeon-fantasy/dad story wasn't one of the light novels I'm most anticipating. Adventurer turned single dad Dale adopts an abandoned devil girl he finds in the forest and then has to deal with the consequences, from parenthood to wondering why his new child bears the mark of a criminal. This is ebook only, but hopefully Seven Seas will later give it a print release.
Overlord: The Lizardman Heroes by Kugane Maruyama, YenOn $20. May.
This is the first volume of the novel to go beyond the anime. Fans, rejoice at Lord Momonga's further exploits!
---
discuss this in the forum (13 posts)
|