News

Rock Band LM.C to Perform at Anime Central in Illinois Before World Tour (Updated)

posted on by Justin Sevakis
Band played theme songs for Nura, Reborn,
Red Garden
anime
---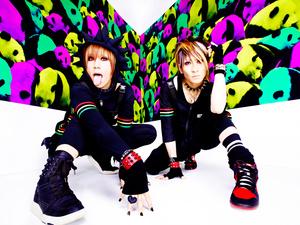 Anime Central announced on Monday that the rock band LM.C will perform during the convention, which is scheduled for April 27-29 in Rosemont, Illinois.
The LM.C duo of vocalist maya and Aiji debuted in 2006 with their "New Century Electrock" sound on the "Trailers [Gold]" and "Trailers [Silver]" singles. LM.C then contributed two opening theme songs for both the Nura: Rise of the Yokai Clan: Demon Capital and Katekyo Hitman Reborn! television anime series, in addition to two ending theme songs for the Red Garden television anime series. In addition to the concert, LM.C will appear at a question-and-answer panel and autograph session on the following day.
The duo had previously performed at Anime Expo 2008's Battle of the Bands. LM.C went on a 11-country world tour in 2009, and performed at FanimeCon in California in 2010.
Update: LM.C will hold a world tour after Anime Central:
April 30 : Mexico City, Mexico
May 3 : Santiago, Chile
May 5 : Sao Paulo, Brazil
May 7 : Bogota, Colombia
May 8 : Caracas, Venezuela
May 11 : Moscow, Russia
May 13 : Helsinki, Finland
May 15 : Berlin, Germany
May 16 : Warsaw, Poland
May 17 : Budapest, Hungary
May 19 : Munich, Germany
May 20 : Lyon, France
May 21 : Paris, France
May 23 : London, England
May 24 : Bochum, Germany
June 1 : Taipei, Taiwan
June 2 : Taipei, Taiwan
Source: Tokyograph
Update: Concert date corrected. Thanks, Cutiebunny.
---