Interest

Autobacs Starts Squid Girl Car-Wraps

posted on

2013-09-01

18:30 EDT by Karen Ressler
---
"Squid Girl Logo"
©安部真弘(週刊少年チャンピオン)
Japanese automotive parts and accessories retailer, Autobacs Seven added "Car Wraps" to their service menu. The service started in domestic Super Autobacs retail shops, in July.
Car wrap is a product which "dresses cars up" cars, just by pasting and wrapping films over the car rooftops. It protects cars from damages caused by stones and other causes. The films can be pealed off easily, meeting the user's wishes to easily customize their cars, upon mood or certain events.
Films featuring Manga series "Squid Girl" characters have been made available. Four versions were designed for the main body. Easy customization to "Squid Girl" version, will put your car in to sudden spotlight at anime events and festas.
The price of car wrap varies by size.S size is 2,047 yen, M size is 6,825 yen, L size is 14,332 yen, and LL size is 43,680 yen.Please be aware that "Squid Girl" films are available for purchase only, and are not part of actual "wrapping services" provided at Super Autobacs.
Requests for purchase of car wraps and wrapping services are available through AUTOBACS.COM. Wrapping services are only available at Super Autobacs shops in Japan.
Films other than "Squid Girl" versions can be purchased as well. There are 6 variations, with a total of 34 colors.
"Squid Girl " Material Image
©安部真弘(週刊少年チャンピオン)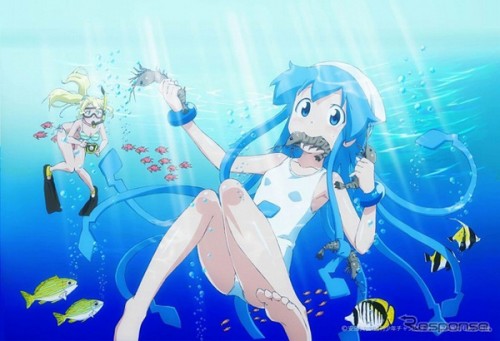 Car Wrapped by "Squid Girl" Character
©安部真弘(週刊少年チャンピオン)
Links:
Dress Up Car With "Car Wrap"! "Squid Girl" Film On Sale! (Autobacs)
Courtesy of
---