Interest

Special Evangelion Girls Night Out to be Held January 2014

posted on by Bamboo Dong
Are you a woman who loves Evangelion? Do you want to meet other gals who also love Evangelion? Then maybe the upcoming Eva Joshi-kai is for you. The event is being organized by Linkbal, the organizers behind the increasingly popular MachiCon singles mixers that are happening throughout Japan (Japanese language link) and Singapore (English language), and Eva-Con, a portmanteau of Evangelion and konpa.
The first Eva-Cons were held earlier this year, and due to high demand, Linkbal will finally be hosting a girls-only Eva-Con event. Officially titled "Eva Joshi-kai" (Eva Girls Meetup), the event will be held January 18, 2014 from 5 to 8PM.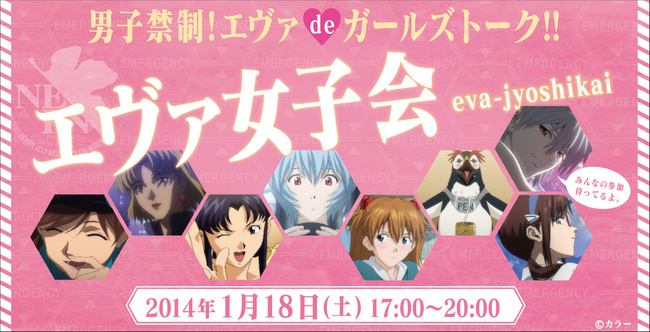 "Expand your group of Eva friends!"
Taking place at the Charmant Scena Tokyo wedding venue in Tokyo's Omotesando area, the event will allow female Evangelion fans to meet each other and socialize. The event will feature original cocktails, an original Eva nail art demonstration, Eva tarot readings, a cosplay photo session, games where you can win Eva merch, and Eva-related icebreaker activities. Registration is ¥4,990 ($50).
[Via Minna no Eva Fans]
---