Interest

Pom Pom Purin Tops Sanrio Popularity Poll, Show by Rock Bands Still Make Top 10

posted on by Carlos Cadorniga
The curtain has closed on the 2015 Sanrio Popularity Poll, in which fans vote over which of the many mascots they love the most, and the most popular characters have been decided.
Each of the bands from the mobile rhythm game-turned-anime Show by Rock that made the top 10 in the preliminary results remained on the list, though they have been knocked down a couple of notches.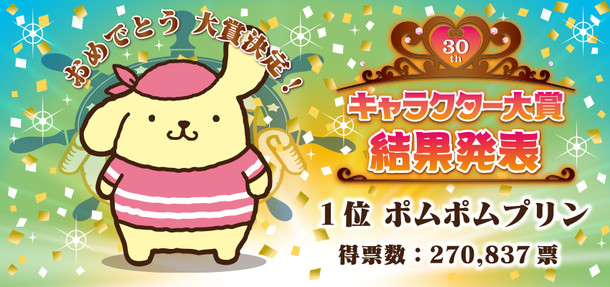 Rising to the rank of #1 is the beret-clad golden retriever, Pom Pom Purin, having received a grand total of 270,837 votes. Previously, he ranked #3 in the top 10 preliminary list.

Having topped off the list back in May, the edgy-yet-silly Show by Rock band ShinganCrimsonZ made it to second place in the end. They trail behind Pom Pom Purin by a mere a mere 35 votes.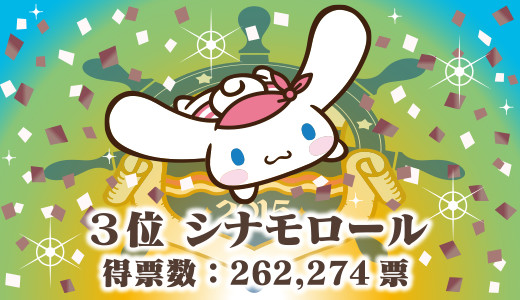 Coming in at #3 is the tiny puppy-like Cinnamoroll, rising above the hate with 262,274 votes.

The main Show by Rock protagonists that make up the band Plasmagica are ranked sixth on the list. The rock-and-roll boy band Trichronika came in eighth place, while the enka rock group Tsurezurenaru Ayatsuri Mugenan barely made the list at number 10.
The Top 10 is as follows:
Pom Pom Purin
ShinganCrimsonZ
Cinnamoroll
Gudetama
My Melody
Plasmagica
Hello Kitty
Trichronika
Little Twin Stars
Tsurezurenaru Ayatsuri Mugenan
新宿マルイアネックス6階『SHOWBYROCK!!大感謝祭♪』会場で、シンガン共のキャラクター大賞第2位記念ポストカードを6/28(日)から無料配布しちゃいますぞ!無くなり次第終了なので皆様お早めにお越し下さィ!ですぞ☆ #SB69 pic.twitter.com/PZ8XNjB1Uz

— SHOW BY ROCK!!公式 (@SHOWBYROCK) June 27, 2015
A commemorative postcard is being offered at department store Marui Annex in Shinjuku in honor of ShinganCrimsonZ making #2. The card features the band in their chibi animal forms.
【オガサワラが会場からお伝えします】SHOW BY ROCK!!、2016年ハッピーセットに! #SB69 #SB69A pic.twitter.com/ZO1b5ybKwZ

— 佐々木義人(クリティクリスタ13位!!) (@tosaka_ssk) June 27, 2015
Furthermore, Show by Rock will see even more publicity at Japanese McDonald's restaurants as part of the fast food chain's Sanrio Happy Meal campaign set for 2016.
The Show by Rock anime recently ended its 12-episode run on June 21.
---