Interest

Planned Hollywood Live-Action your name. Film Already Has Manga Parody

posted on by Jennifer Sherman
Fans of Makoto Shinkai's acclaimed your name. anime film are reeling after the announcement that Paramount Pictures and J. J. Abrams' Bad Robot Productions are producing a live-action Hollywood adaptation. Manga creator Ryoichi Yokoyama (Sengoku Comike, Iidabashi no Futabachan) seems dubious about the planned adaptation. He posted on Thursday a two-page parody manga of what he imagines the Hollywood film might be like.

Mitsuha: Could we possibly have....
Taki: Switched places!?
Guy: Hey, Taki! I got some good drugs, so wanna do them!?
Mitsuha: There's tons of dangers in New York!
Guy: Hey... Taki!?
Girl: Hey, Mitsuha!? Living in a trailer today, too!?
Taki: Fucking country girl!!
Girl: Mitsuha's crazy!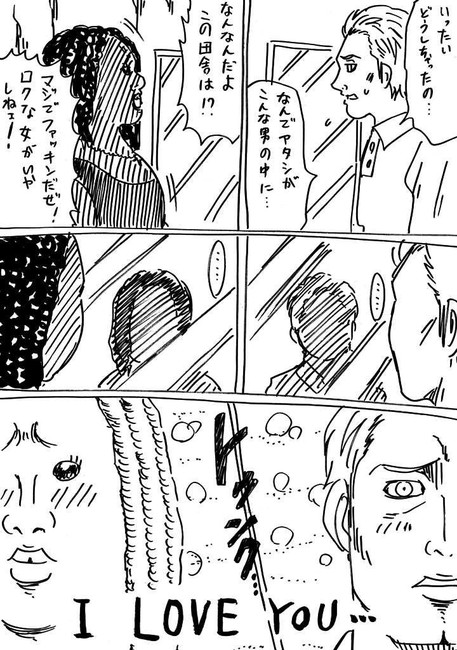 Mitsuha: What in the world did I do? Why am I inside this guy?
Taki: What's with this backwoods place!? Seriously, fuck! This good girl is awful!
Taki & Mitsuha: I love you....

In the story, Mitsuha is in Taki's body in New York, and Taki is in Mitsuha's body in New Orleans. Taki's apparent friends ask who they believe is him if he wants to try some drugs. However, Mitsuha has no interest, so she runs away. Meanwhile, a couple of girls try to bully Mitsuha, but Taki reacts by punching them. Taki and Mitsuha, equally frustrated with their new situations, wonder what happened to them. They look into mirrors, somehow make a connection, and realize they love each other.
Yokoyama's manga shows some common stereotypes that some Japanese people believe about the United States. Two of the most common stereotypes are that the U.S. is extremely dangerous and Americans are constantly yelling and exclaiming. Yokoyama also seems to be under the impression that New Orleans is rural. Granted, some Americans might say it is in comparison to New York City.
Fans will probably have to wait a while before they get to see Abrams' interpretation of Shinkai's popular film. Hopefully, the Hollywood version has more nuance than Yokoyama's and can do the original work justice.

Abrams (Star Wars: Episode VII – The Force Awakens) and Lindsey Weber from Bad Robot will produce the live-action film alongside Genki Kawamura, the original film's producer. Academy Award-nominated screenwriter Eric Heisserer (Arrival, Final Destination 5) is penning the script. Paramount and Bad Robot will work with original producer Toho, who will distribute the film in Japan.
The anime film centers on Taki, a high school boy living in Tokyo who works part-time at a restaurant, and Mitsuha, a high school girl living in a town in rural Japan who wants to live in the city. One day, they begin switching bodies every time they sleep, and have to find a way to communicate with each other to manage each other's lives. Later, when they try to meet up physically for the first time, Taki discovers a secret that will lead to a race against time to try and save each other.
The original film opened in Japan in August 2016, and has become the fourth highest-grossing film of all time in Japan, the second highest-grossing Japanese film, and the second highest-grossing anime film. The anime has also become the highest-grossing anime film of all time worldwide.
[Via Yaraon!]
---