News

5 Centimeters, Freedom, Ping Pong to Screen at AX 2007

posted on by Egan Loo
Hula Girls to screen at New York, Chicago, Seattle, Portland, San Francisco
---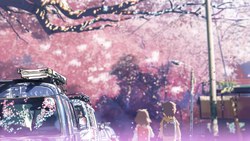 Three different companies have announced screenings for three critically acclaimed works at Anime Expo 2007 from June 29 to July 2 at Long Beach, California. Viz Pictures is planning theatrical screenings for a fourth, Hula Girls, outside the convention.
ADV Films will premiere a 35mm subtitled version of Makoto Shinkai's 5 Centimeters Per Second at two late-night screenings at a theater near the convention center on Saturday, June 30. ADV Films will sell tickets at its Exhibit Hall booth. ADV is planning a fall theatrical tour for this anthology of three dramatic vignettes by the writer-director of Voices of a Distant Star and The Place Promised in Our Early Days.

Bandai Visual USA will erect a high-definition screening theater within its Exhibit Hall booth for continuous showings of the first two subtitled volumes of Shuhei Morita's Freedom science fiction series. Morita and series planner Dai Sato will appear at the first Saturday screening on June 30 at 10:20 a.m. as well as on a Freedom panel on Friday, June 29 at 6:00 p.m. in Live Programing Room #1. The series features storyboards and production designs by Katsuhiro Otomo.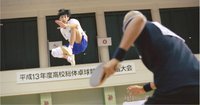 Viz Pictures will bring Fumihiko Sori's manga-inspired live-action Ping Pong film to a special screening on Friday, June 29 at 4:00 p.m. at Video Room 1. Director Sori supervised on the visual effects of Titanic before directing this adaptation of the dramatic table tennis story from Tekkonkinkreet manga creator Taiyo Matsumoto. Sori has since contributed to the Appleseed movie and is about to release the much anticipated Vexille - 2077 Nippon Sakoku dystopic science fiction film.
Outside Anime Expo, Viz Pictures will also present Lee Sang-il's award-winning Hula Girls live-action film in New York, Chicago, Seattle, Portland, and San Francisco. The first public screenings will be at New York's ImaginAsian Theater during July 13-24 and at Chicago's Facets Cinematheque during July 13-19. The movie is based on a true story of girls who revived a rundown Japanese mining town by learning to hula dance for visitors.
Images © Makoto Shinkai/CoMix Wave
© 2006 FREEDOM COMMITTEE
© 2002 Ping Pong Production Committee
---