News

Banpresto Announces New Gundam Goods for Prize Drawing

posted on

2007-10-31

05:27 EDT by Egan Loo
Includes spaceship air purifier, robot head/ivy planter, Char's mask
---

Not-So-Daily Link of the Day: On October 30, the Bandai Group's character goods maker Banpresto announced its newest prize goods based on the first Mobile Suit Gundam robot anime. The prizes will go into its Ichiban-Kuji random prize drawings at Japanese convenience stores in late November. Customers get one chance at the prizes for 500 yen (about US$4.36).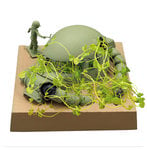 The prizes include a White Base space carrier model that doubles as a USB-powered ionized air purifier (pictured right), a USB hub shaped like a critical circuit for the Gundam mobile suit robot, an ivy planter shaped like a derelict Zaku mobile suit robot's head (pictured left), a gel-filled eye-mask — shaped like the antagonist Char's mask — for relaxing tired eyes (pictured below), and ballpoint pens that double as the cannons of Gundam's Ball mobile pod. The air purifier's ionized emissions are supposed to emulate the fictional Minovsky particles that are the foundation of the Gundam world's "physics."

Banpresto describes the line's target audience as the first generation of Gundam fans who are now males in their 30s.
Images © Sotsu, Sunrise
---