News

Bandai's Bihada Ichizoku Cosmetic Comic Gets TV Anime

posted on by Egan Loo
Manga promotes
love labo
's cosmetic lineup with fictional beauty contest
---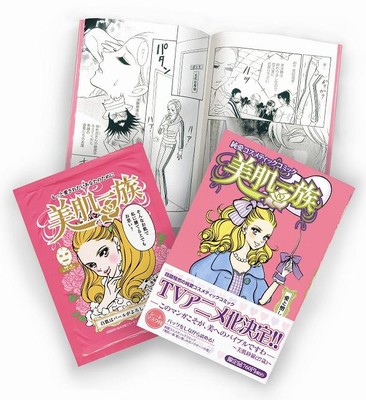 The promotional sleeve wrapper on the second volume of the Junai Cosmetic Comic: Bihada Ichizoku (Pure Love Cosmetic Comic: Bihada Family) manga has announced that a television anime adaptation has been green-lit. The manga fleshes out the storyline that the Love Labo promotional company and the manufacturer Bandai created for the Bihada Ichizoku (literally, "Beautiful Skin Family") cosmetic lineup. In the story, there is a World Beautiful-Skin Competition (WBC) to which the 3 billion women of the world aspire. Carrying on the 300-year legacy of the competition are the twin Bihada sisters, Sara and Saki.
Love Labo and Bandai shipped the first manga volume as a bonus extra with one of the Bihada Ichizoku cosmetic line's sheet masks (sheets infused with health and beauty formulas for treating the skin) last November. This Junai Cosmetic Comic: Bihada Ichizoku: Watakushi, Bihada Sara de Gozaimasu no Kan (Pure Love Cosmetic Comic: Bihada Family: I Am Sara Bihada) bundle eventually sold 120,000 copies. The tagline of the second comic/sheet mask bundle, which shipped on April 25, describes the manga as the "bible for achieving beauty." (The tagline of the entire line is: "For those of you who want to be loved more.") This new Ai to Nikushimi no Nocturne no Kan (The Nocturne of Love and Hate) volume takes place during the decisive final round of the WBC.
Riyoko Ikeda's historical shōjo manga classic The Rose of Versailles has been used to sell Creer Beaute's women's bath powder sets, mascara, and eyeliner. Similarly, Schwarzkopf & Henkel hawks hair coloring products to Japanese men with Hiroshi Takahashi's Crows and Worst fighting manga. However, Love Labo claims that Bihada Ichizoku has the world's first comic/cosmetic bundle.
Source: Moon Phase Comments
Image © Love Labo/Bandai FiL
---