News

Street Fighter IV Game's Anime Teaser Trailer Streamed

posted on

2008-07-08

23:46 EDT by Egan Loo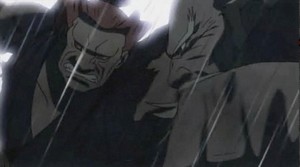 The official Japanese website of Capcom's Street Fighter IV fighting game posted a special teaser trailer for the consumer console version last Friday. When he previewed this promotion video before the press last month, producer Yoshinori Ono specifically noted that it will not be in the Xbox 360 and PlayStation 3 versions of the game. However, similar anime footage will be included to flesh out the characters' background. He also indicated that a famous anime studio is producing these sequences, but has not announced more details yet.
Image © Capcom USA, Inc.
---
discuss this in the forum (6 posts)
|
bookmark/share with:
back to Daily Briefs
News homepage / archives
RightStuf - Anime, Manga and More
The Spring 2018 Anime Season has begun - check back daily for fresh reviews of all of this season's premieres!
Available Now: Spring 2018 Shorts featuring Aggretsuko - Wotakoi - Full Metal Panic! Invisible Victory - High School DxD Hero - Doreiku the Animation - Steins;Gate 0 - Butlers x Battlers - Last Period - Yotsuiro Biyori - Golden Kamuy - and much more!
― Welcome to Anime News Network's Sprin...
James Beckett reaches the memorable conclusion of Hachiman's unexpectedly romantic adventures, while Paul Jensen breaks down all this week's new anime releases.
― As I write this introduction, it's late at night and the people in the apartment next door are blasting music loud enough to rival a karaoke bar. I'll probably end up dealing with the problem in a civilized manner, but part of me really wa...
If a show was produced in a low resolution and has to be "upscaled" to HD, is it worth buying the HD version? Justin gets into the details.
― Patrick asked: I have a very simple question. Are blu-ray upscales of shows that have been out on dvd for years (I.E. Gungrave, Fate/stay night, etc) worth the money? Does the upscaling actually make a big enough difference to justify another purchase to see a...
This kid-friendly monster adventure may please the preschool set, but it's hard to see older fans of the franchise getting much out of it. Rebecca Silverman has the details.
― Spun off from the Monster Hunter game franchise's Stories game, Monster Hunter Stories RIDE ON is very squarely aimed at a young audience. That's not because it features a core group of twelve-year-olds as its protagonists, but...
This daring and unique horror anthology offers outstanding thrills that can be a little disorienting. Lynzee Loveridge gets into the nitty-gritty of this unusual series.
― Samson's long hair gave him the unsurpassed strength. Scottish folklore dictates that if a bird steals your cut hair for nesting, it means your imminent death. Long, cascading hair is wildly associated with femininity and the subje...
Sentai heroes look cool when they power up and magical girls transform with grace and beauty, but some magical metamorphoses are less comfortable to watch. These six examples are just plain weird.
― Let's talk about magical girl transformations for a minute. The first things that come to mind are sparkles, ribbons, cheery music, and maybe a few poses that only the most experienced gymnast could pull...
This sweet yet relatable yuri series continues as the girls' relationships deepen and come into greater conflict. Rebecca Silverman gets into the good stuff.
― Time marches on, and with it comes new worries. The previous volume of Hiromi Takashima's Kase-san and… yuri series had the girls coping with the idea of being separated after they graduate from high school – Yamada had always planned to follo...
After a high-profile spotlight in the new spring anime Golden Kamuy, some readers are curious to know more about Japan's Ainu population. Justin is happy to oblige!
― Eric asked: I'd watched the first episode of Golden Kamuy, and that anime and even its original manga had mentioned about the people of Ainu in Japan in which I know they're somewhat similar to the Native American Indians in the Americ...
With one enormous smash hit after another, it's hard to overstate just how big a year 1998 was for anime - thankfully, Daryl Surat is here to run down the biggest and brightest hits of that spectacular year.
― We've reached the point now where multiple generations of anime fans have relied on the Internet as their primary means of organization and interaction, to the point where they accept it as giv...
The fourth Digimon Adventure tri. film can be yours. Shout! Factory is giving away 3 Blu-ray/DVD copies of Digimon tri.: Loss each to three lucky winners!
― The fourth Digimon Adventure tri. film can be yours. Shout! Factory is giving away 3 Blu-ray/DVD copies of Digimon Adventure tri.: Loss to three lucky winners! Synopsis Loss picks up where Confession left off! The DigiDestined must try to reconn...