News

Maria Holic, Queen's Blade, Tayutama, Hetalia Promos Posted (Updated)

posted on by Egan Loo
---

The Japanese production company Media Factory is officially streaming its promotional videos from Tokyo's ongoing Comic Market 75 convention on the YouTube video-sharing website. The promotional videos include a Maria Holic trailer (second link), a Queen's Blade trailer (pictured below), a Tayutama -Kiss on my Deity- trailer, and a Hetalia - Axis Powers trailer (pictured at right). Maria Holic and Hetalia will premiere on Japanese television next month, although Maria Holic's first episode is already streaming in Japanese online. Queen's Blade and Tayutama are tentatively planned for next spring or later.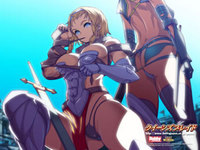 Media Factory has also posted a Michiko to Hatchin DVD commercial, a Macademi Wasshoi DVD commercial, an Aquarion the Movie Blu-ray Disc commercial, a Gin-iro no kami no Agito (Origin ~Spirits of the Past~) Blu-ray Disc commercial, a Zero no Tsukaima 1 DVD-Box commercial, a Aria DVD-Box commercial, a Strawberry Panic DVD-Box commercial, and a Bakuretsu Tenshi ~Infinity~ DVD commercial.
---
Maria Holic Trailer
Queen's Blade Trailer

Tayutama Trailer

Hetalia Trailer

Source: Saishin Anime Jōhō
Image © Hobby Japan/Queen's Blade Partners
Update Second link for Maria Holic trailer added.
---